Joe Mantegna gave one of his best Rossi performances ever on Criminal Minds this week. In fact, that whole final scene was over the top amazing.
Criminal Minds Season 10 Episode 9 gave us the case of an unsub – later determined to be a woman named Ellen – who lost control of her impulses. This came as the result of a car accident in which her frontal lobe was damaged.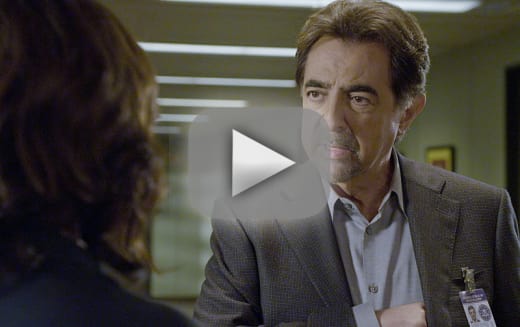 She therefore lost the ability to not murder people whenever she was angry. I suppose it was kind of a fantasy leap from those times we all experience when we're on the highway and someone cuts us off.  "Oh I could just kill that guy!"  Only she actually does; because, you know, she just can't help it.
The bigger story by far, though, was Rossi's mysterious stalker; if we can call her that.
It was fun watching him. 
At first we see him rocking out to the song "There Ain't Nobody Home" by the group Rockin' Horse, while seeming to be oblivious to the girl following him.
Then we see him offer her some coffee while he scathingly tells her he's been aware of her for at least two days.
Then we see him biting down on his agitation while in the car with Kate, shortly after after Joy tells him he's her father. 
The best part  was watching his emotions as Joy slowly reveals more of her life to him. That not only is she his daughter, but he has a grandson. And she's married to an Italian.
I had a hard time watching it. When a performance like his can affect you emotionally – such that you forget that you're watching a TV show – you know you're watching a stellar actor do what he does best.
I wonder if Rossi still believes, as he told Kate earlier, that he's better off living alone. It seems Hayden Montgomery (Joy's mother and Rossi's former girlfriend) may have been the elusive romance he's been seeking all his life. He certainly was hers.
On the other hand, it's probably convenient for the writers that Rossi and Hayden live on different continents. If he was to re-start that relationship, it would be difficult at best.
One thing's for sure; we need to see this new extended family of Rossi's, one way or another.
Final thoughts:
In the opening scene, the woman in the hair salon was on the phone when she heard a noise. If that were me, I think the last thing I'd do is hang up so I could go investigate. The intelligent thing to do would be to ask the caller to hold on, you'd like to be able to shout for help if you needed, and that person on the other end could quickly hang up and call 911.
We have to note the excellent dramatic performance of Tina Holmes who played Ellen Connell – the woman with the frontal lobe problem. She was entirely believable.
The frontal lobe injury was not quite as believable. People who've been hurt in this manner have lost various brain functions, and some have even had their personalities changed as a result. Inability to control the impulse to murder? Maybe not so much.
Trichotillomania – the impulse to pull out one's hair – is real.
When Rossi was racing to the airport did you notice that he turned on the lights and siren? That's a big no-no in law enforcement. I suppose we can let it slide in the interest of dramatic story development.
Since there was so much revealed about Rossi and his newly discovered family, the lengthy dialogue has been captured in this episode's Criminal Minds quotes.
Criminal Minds will return on December 10 in an episode entitled "Amelia Porter."
What did you think of this episode? Did you guess right away who his mystery stalker was? Be sure to watch Criminal Minds online and then let us know your thoughts in the comments!
Douglas Wolfe was a staff writer for TV Fanatic. He retired in 2016. Follow him on Twitter
.