It's the finale! On Dancing With the Stars Season 19 Episode 13, the final four contestants danced their hearts out in hopes of winning the mirror ball trophy.
And thank goodness it's a two-part finale. My main complaint with this season is that it has been rushed by only airing one night of the week for most of the competition. That's left less time to get to know the contestants, eliminated the encores, and cut the special performances we used to see so often.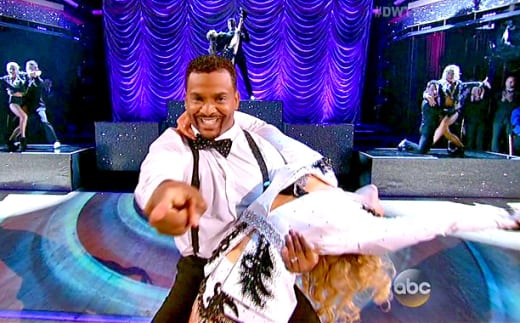 Part one of two-part finale included more rehearsal footage and a performance from the cast of Annie, which was both well-done and adorable. But what about our finalists?
The contestants repeated dances from earlier in the season, with the judges choosing which routine they felt the couple could improve upon. What's nice about this is that we get to see some favorite dances again while also having the chance to notice how much each contestant has improved.
In fact, both Bethany and Alfonso were asked to repeat their Jives from Dancing with the Stars Season 19 Episode 1, and for both of them, the improvements were dramatic. Bethany and Derek's routine was strong, despite a mishap with the set, but Alfonso's routine was fantastic. The poor guy has been through hell this season, and even though he's been battling several injuries, he danced like a pro tonight. The perfect score of 40 was well-deserved.
Sadie and Janel each repeated their Sambas, and both did well. But Sadie and Mark's routine was my favorite of the two – it was their Duck Dynasty inspired routine from week 4, Dancing with the Stars Season 19 Episode 6.
My favorite part of every season is the freestyle round, and this week was no exception. All of the routines were fantastic and flashy, but my absolute favorite was Sadie and Mark's Super Mario Brothers themed routine.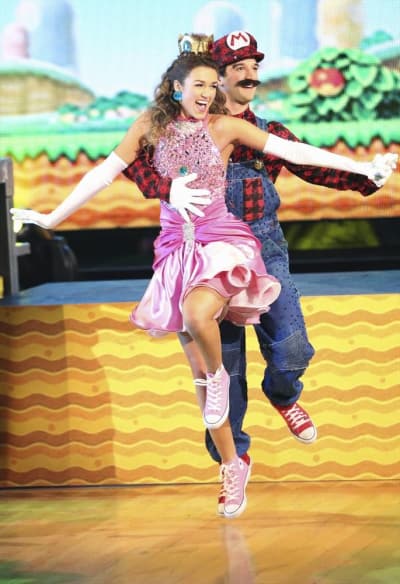 I don't think I've ever enjoyed a dance quite as much as I enjoyed this one, and that's saying something. It was cute, fun, and brilliant, with Sadie dressed at the princess and Mark as Mario. Their dance re-enacted the classic video game – music and all. Amazing.
And a close second was the freestyle that finished off the night. Alfonso may have been in a great deal of pain, but it didn't show. He is an incredible competitor, and this dance showed exactly why. The routine combined elements from several of his dances this season, and even featured a tap dance solo. It was simply wonderful.
Here's the bad news. Somebody had to be sent home just shy of the last round. Who was it?
Truthfully, I had no idea who would be sent home. And I really believe that each of these couples deserved to be in the finale. Still, I was a bit surprised that Bethany and Derek were eliminated.
But can anyone complain about the final three? Alfonso, Sadie, and Janel have all done an awesome job this season, and any of them would be deserving of that trophy.
What about you, Dancing Fanatics? Were you surprised at these results? And who do you think should win the Mirror Ball Trophy? Leave us a comment – we want to hear your thoughts!
And here are the scores from part one of the finale!
Alfonso and Witney: Jive – 40 and Freestyle – 40 (total 80)
Sadie and Mark: Samba – 38 and Freestyle – 40 (total 78)
 Janel and Val: Samba – 37 and Freestyle – 40 (total 77)
Bethany and Derek: Jive – 36 and Freestyle – 40 (total 76) ELIMINATED
Ashley Bissette Sumerel was a staff writer for TV Fanatic. She retired in September 2017. Follow her on Twitter and on Google+.