On Family Guy Season 13 Episode 4, Brian becomes the closer he was born to be.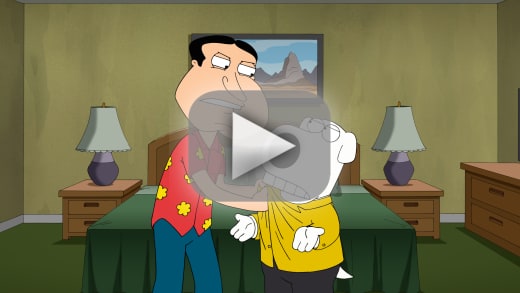 The episode starts out strong with Peter's initial obsession over Brian's rope chew toy offering many laughs. From his devolution into Gollum, to his upgrade into Johnny Five, Peter tries everything to get the rope (and some ice cream, of course ). It leads to Lois asking this very important question: 
You didn't go to work today, did you?

Lois
It only gets better as Peter ties his own piece of rope to Brian's rope, and drives off, promising Brian that no one needs to get hurt. Well, except for one person: 
Just let go of the rope, nobody has to get hurt Brian! Only one person has to get hurt Brian.

Peter
This first scene establishes Brian's need for cosmetic surgery, as Peter's pursuit of the rope ends with Brian getting his face pummeled by a fire hydrant.
What follows is admittedly pretty great. The "clears eyes, giant teeth, can't lose" Friday Night Lights reference, the flirtatious Starbucks barista, and the birds smiling back at Brian are all a result of his brand new smile fit for a real estate agent - literally. 
He stumbles upon this new career, and embraces the life of a chiseled smile-having salesman. His first few sales do seem a bit sketchy, but he gets the job done regardless.
Brian's smooth talking gets him pretty far in the business, but before long it's time to land Quagmire for a crappy condo so that he can become a partner. 
Brian tracks down Quagmire at his gym, and puts Heisenberg levels of manipulation to work (side note: damn, Quagmire's you-know-what can curl more than I can!).
Partly due to Peter's own excitement over the property's projected image, Quagmire caves and buys the condo.
The ceiling is a pool! The ceiling is a pool! Quagmire you gotta get this!

Peter
The gang, heading to Quagmire's newly purchased property for the first time with a car jam-packed with kegs, seem ecstatic. And Peter hatches a plan to meet the ladies:
Peter: Now Quagmire, when you introduce us to the ladies by the pool, I'm a millionaire, Joe's a war hero, and Quagmire's Magic Johnson.
Cleveland: I own a lot of theaters, I hope you don't know much else about me.
For once, Quagmire was pretty much in the right and it was Brian's slimy real estate tactics that were going unchecked. 
When you were poor, you were always a douche, but at least you came by it honestly. But now, screwing over the people that helped you! I don't know how you sleep at night!

Quagmire
Despite being a mainly Brian-centric episode, there were a lot of one-off jokes that landed this weak. From the return of the beaver, who Peter claims they use "just the right amount," to this little gem of an interaction between Cleveland and Quagmire:
Cleveland: It's sad when planes 'splode.
Quagmire: What? Yeah I guess.
With many of the great jokes coming from on the nose one-liners, feel free to visit the Family Guy quotes page in order to recap the high points of "Brian the Closer." Unlike, some weeks, the minimal use of characters like Stewie and Meg worked perfectly and gave us a handful of laugh out loud moments.
In the end, Brian's own cleverness and weird knack for manipulation got his face hilariously bashed in once again.  
Even though I know you never liked me, you still helped me when I really needed it. That says a lot about your character. I'm ashamed of myself, because I am none of the things you are. You're honest, and direct, and compassionate, aaaaand that's 72 hours! Enjoy your crap-hole dumbass!
Watch Family Guy online to follow Brian's descent into the "safety-net" career of real estate, and witness the consequences of messing with Quagmire.