Law & Order: SVU Season 16 Episode 6 Review: Glasgowman's Wrath

Narsimha Chintaluri at . Updated at .
A few days late, Law & Order: SVU Season 16 Episode 6 nevertheless goes Halloween on us in the scariest way possible - with homicidal little girls.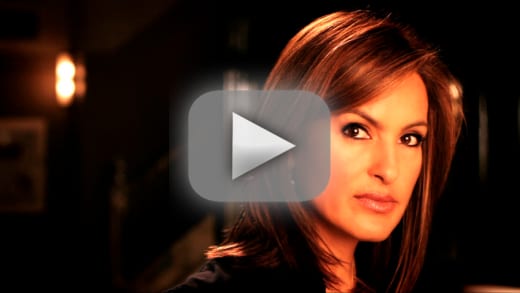 This urban legend in the making, entitled "Glasgowman's Wrath," isn't ripped straight from the headlines as usual, but is still timed appropriately in light of recent ghoulish festivities. Featuring two 13 year old girls that put a brand new spin on BFFs, tonight's episode is entertaining enough for the most part - with the biggest payoff being the fittingly eerie ending. 
I mean really, how awesome was Caresi's reaction to the interlocked pinkies at the end? Mia may have gotten off as a victim of Perry's delusions, but as the squad found out earlier, these two girls really do live in their own little world, and looks as if they're still a team.
Poor Zoe, a normal kid for all intents and purposes (maybe not for long after this recent experience), having to deal with what she believes is simply older sibling torment. I dread the day she's confronted with the psychotic actions of her elder sister and the terrifying Perry. 
Seriously though, how is this not beyond creepy:
So I stabbed myself, to let the blood cool off.

Perry
Like I said, this episode is an urban legend in the making for these maniacal girls. 
These are the kind of psychopaths in training that will simply take this "sentence" to psychiatric care as a learning experience, let the hatred and delusions fester, and plan for an even bigger "game," down the road. 

Because that's what this seemed like to Mia and Perry - a game. They must have known on some level that all the Glasgowman talk was just fantasy. They knew that Leslie, Perry's graphic novelist babysitter, was making this lore up for his work. They even knew that the stories were based on a homeless man from the park. However, they went through with their actions for each other. 
And the ending suggested that we haven't seen the end of that bond. 
Aside from the BFFs from hell, there was some more tension between Amaro and Rollins (the latter siding with Caresi over the former, and the former still trying to shelter the latter). It isn't much, but the little things like that, or seeing Benson have to schedule a nanny for baby Noah, help make the "real-life" problems of the character's seem more tangible from week to week. 
The unsung hero of the episode was definitely Will Harris's Charlie Dorsey, the homeless man in the park.
As the last good Samaritan in this dying society, I alone saved her.

Charlie
Despite the multiple psychological ailments he seemed to have, he was truly just trying to be a good Samaritan in this situation. And not only was he ultimately innocent, he made Caresi showcase a more endearing side of his usually brash self. 
Charlie: I told you I'm not crazy.
Caresi: Oh no, you're bat crazy - but you're not paranoid.
Caresi seemed absolutely delighted let his new friend know that he was free to go, but also took the time to offer help.
You really are a good samaritan, you saved Zoe.

Charlie
And their interactions gave us this gem:
Charlie: Brother, I need you to switch my eye patch to the right.
Caresi: So you can see in the dark, I get it.
Overall, tonight's episode was seasonal rather than topical, but the twisted tale of these little girls' delusions proved to be an entertaining hour. Watch Law & Order: SVU online in order to relive the terror of the Glasgowman - and by that I mean two 13 year old girls with insane imaginations.