Law & Order SVU Season 16 Episode 8 Review: Spousal Privilege

Narsimha Chintaluri at . Updated at .
On "Spousal Privilege," a wife of an ex-NFL player turned sportscaster unwittingly struggles with Stockholm syndrome as a dispute between her and her husband goes viral. 
Law & Order: SVU Season 16 Episode 8 draws inspiration from Ray Rice and other related incidents, and sees The Wire and The Walking Dead star, Chad Coleman, fill in the role of the wolf in sheep's clothing.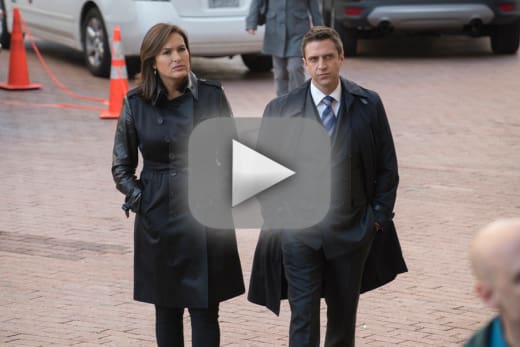 Benson even made a direct reference to the Ray Rice incident. 
After Ray Rice and the others? If it looks like domestic violence, we follow through.

Benson
The timing of this confuses me, as I assumed the show was filmed prior to the recent NFL situation, but the reference is probably regarding the actual elevator footage – which was public a while before the suspension and following repercussions. 
Chad Coleman, being a veteran dramatic actor, fills the role of A.J. Martin seamlessly. His multifaceted performance allowed for conflicting views of the incident to exist, despite the brutal footage. 
There were strong vibes of domestic abuse to be gathered just from the short amount of time spent in the Martin household due to Coleman's intense turn as the ex-NFL player turned sportscaster.
Everyone commenting on their upbringing and childhood discipline showcases various unique perspectives and different cultures. Even Rollins was siding with Martin to an extent. 
I was raised the same way. In the south, you had to pick out your own switch.

Rollins
That is until the extra footage in the stairwell leaked:
That changes everything.

Rollins
Paula refused to play the victim and wanted only to keep her family intact and not perpetuate any stereotypes. But Benson made a point about exposing abuse for what it is, rather than hiding under various guises. Even if Paula didn't want to admit it for whatever reason (however valid), abuse is abuse. 
I'm concerned about your son's safety. I'm concerned about your safety. I'm not concerned about the public perception of black men.

Benson
I was surprised that Rollins was still partly on the side of Paula (and through her, Martin) even towards the end. However, she was making a few good points in her drunken slur. 
We all don't need to be saved.

Rollins
She pushed Amaro too far with her purposeful, violent, provocation. She was right though – the decision didn't need to be made for Paula. and that not everyone wants to be a victim, but she's ignoring the fact that many of these situation give way to repeat offenders. It is the place of SVU to prevent such an occurrence. 
With Amaro's familial strife and his anger issues spilling back into work, and with Rollins dealing with her own issues, his hinted relationship with her seems to be on the rocks. 
There was even this pretty on the nose exchange between Rollins and Fin on the topic:
Fin: One, you can't take this job home with you.
Rollins: I'm working on that.
Fin: Two, you can't take anyone from this job home with you.
A.D.A. Barba's scathing cross examination brought the already emotional Martin to tears. He seemed to be deluded enough to believe his own lies, but Barba attempted to bring the truth to the surface. 
In fact, Barba's skillful dissection of the facade Paula and her family live was a highlight of the episode. He masterfully breaks down her life as basically Martin's hostage. 
Do you realize that you looked at your husband before you answered that?

A.D.A. Barba
Visit the Law & Order Quotes page for more tidbits from the tactful cross examination. 
I was starting to get fed up with Rollin's insistence that Martin had learned his lesson, or that Paula was anything but delusional in her "happiness." 
Rollins: I just think A.J.'s learned his lesson.
Benson: You do? I don't.
But as Barba put it, in the end:
Physical violence against another human being is a crime. Even if she's "just your wife."

A.D.A. Barba
Do you agree with Rollins, Fin, and the other apologists? That may sound harsh, but that's what it seems like from where I'm standing. 
Paula and her son, or any human being for that matter, deserve to live free from the threat of violence – even if they don't agree. You don't have to agree with every law. The best ones are their to protect you, even from yourself.
You can watch Law & Order: SVU online to catch up on this Law & Order: SVU Season 16, and leave your thoughts down below.