Love & Hip Hop Hollywood Season 1 Episode 9 Review

Whitney Evans at . Updated at .
Oh, it's just another day in the lives of the rich and semi-famous on Love & Hip Hop: Hollywood Season 1 Episode 9. And it's another day we're all familiar with. 
Doesn't it sometimes seem like we're seeing the same things over and over again on this show? Masika and Nikki go at for the hundredth time. Moniece and Fizz continue to disagree over Amanda. 
I'm all on board with this show, but this was not the most thrilling episode.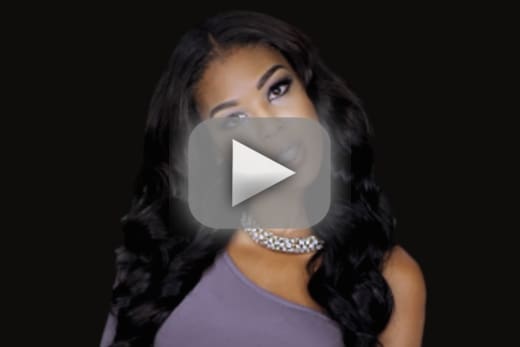 We picked up right where we left off -- at the party introducing Masika as the face of the new strip club that Nikki's parents are involved in. In shocking news, Nikki was not pleased. 
It's kind of embarrassing to see her talk about her power and how she can get Masika taken right off her new billboard. Jealous much? Nikki seems pretty successful in her own right so why worry about Masika so much?
Later, she met with her mother and basically demanded Masika be removed as the face of the club, but mama wasn't having it. It was nice to see Nikki knocked down a peg. 
While Mama wouldn't get Masika fired, she would bring pictures of her mug shot to lunch. Yeah, it looks like back in her younger days Masika was arrested and charged with theft. Nikki, of course, vowed to use this information to her advantage, but at this point what can she really do with it?
Teairra, who's looking to be the peacekeeper these days which is hilarious in itself, tried to bring Masika and Nikki together but that was never going to work. These two are never, ever going to be friends. And with them both seemingly done with Mally Mal, there really is no reason for them to be around each other. (No one actually misses him, right?)
Besides, I'm much more interested in Masika's new drama with Hazel. Hazel is a much more formidable opponent than Nikki. 
Elsewhere, the fallout from Moniece and Amanda's fight was kind of a letdown. Amanda showed up to tell Fizz all about it but he really didn't care. With all the crap Amanda did to him, was she really expecting him to jump to her defense?
Fighting is never the answer but Amanda was running her mouth a lot and Moniece clearly has anger issues, so was she really surprised she swung first? 
Fizz met up with Moniece and I couldn't really tell you what they were supposed to be discussing. He proclaimed he and Amanda were done (call me, Fizz) and he honestly didn't seem that mad about the fight. He was more mad about Moniece's claims that she was looking out for Cameron, when he believed he's the only one who should be doing that since he's the full time parent. 
Those two are in some serious need of therapy. 
Maybe they can ask Ray J's dad to counsel them because he did a pretty good job counseling Ray. 
Turns out Ray J was just sentenced to probation after his arrest and he couldn't be happier. He seemed to really be thinking logically and he was ready to concentrate on his career again. He did admit that some of his problems may have stemmed from the Teairra relationship and his dad urged him to make peace with that. 
Looks like we'll get to see some of that next week, but how many people think that's going to go well? Don't all speak at once. 
Apryl and Omarion became parents tonight and there's not much to say besides awe! I'm hoping the arrival of their little one will bring their entire family closer together. 
This was not the strongest episode, but even the less strong episodes are more entertaining than a lot of other things on TV. So tell me what you thought? How infuriating is Nikki sometimes? Can Ray J and Teairra ever be friends? Are Fizz and Amanda really over? Will Fizz actually call me?
Don't forget to watch Love & Hip Hop: Hollywood online right now and get hooked on the drama!
Whitney Evans is a staff writer for TV Fanatic. Follow her on Twitter.