On New Girl Season 4 Episode 9, we celebrate Thanksgiving Bangsgiving at the loft!
I've said in the past how great this show is when they utilize their ensemble – tonight did not disappoint! Thankfully (pun intended) New Girl is usually on point with their holiday fare and they proved that they still have life left in them.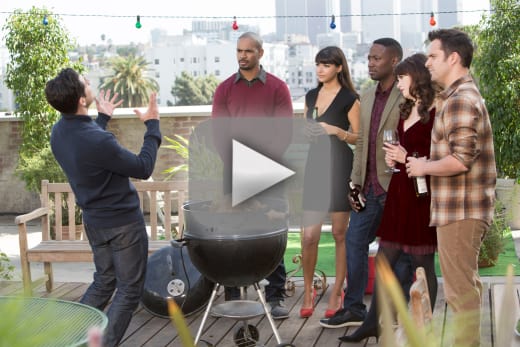 The whole Bangsgiving theme had me a little nervous, but when the dates showed up the nerves went away. 
Nick bringing Tran as his perfect date was no surprise. Tran has never spoken a word, but he gives such great advice to Nick; love it! It was shocking it has taken Nick this long to figure out his perfect woman would be exactly like Tran. 
Was anyone shocked Coach invited Ryan as Jess's date? Tonight just made my love for Ryan grow even more – he wants to be with Jess and doesn't want some one-night stand; though I am waiting for the other shoe to drop. 
Coach's date was the perfect match for him; though Coach's reaction to his muscular date was confusing – he has been in the sports industry for years and you'd think he would have dated at least one muscular/strong woman. Thankfully Coach warmed up to her and they both showed how competitive and alike they are; go Coach!
Does anyone else want to hear the other horrors from Winston's life? I never knew you could have such an aversion to lunch ladies, but apparently if you are forced to eat a ton of tator tots it stays with you. We just need one episode dedicated to Winston telling stories of the different things that have happened to him – flashbacks and all!
Schmidt and Cece seem to be heading for a reconciliation – haven't we been here before? It just seems like the writers don't know what to do with them except for the whole back and fourth thing. We either need to put them together already or let them move on to different people. Even with the indecisiveness, those final scenes of them playing a game together was cute.
The big question for tonight is what did the Nick and Jess fans think? We actually got a scene where they somewhat addressed their relationship – unfortunately this is all the closure we are going to get. It was a lovely scene between the ex's where we got some idea of where their heads are. Nick being the one to tell Jess to take a chance was a huge step for him; he's growing up!
It was a surprisingly enjoyable episode. The final montage of everyone with their dates was pretty sweet and gave us an idea of what is to come. While New Girl has been choppy lately, tonight they redeemed themselves and we can only hope this is a step in the right direction.
What did you think of tonight's episode? To the Nick and Jess fans, did you feel any type of closure? 
Want to relive memories of Thanksgiving past? Go watch New Girl online now via TV Fanatic!
NOTE: New Girl Season 3 Episode 10 is titled "Girl Fight" and it airs on Tuesday, December 2.
Samantha McAllister was a staff writer for TV Fanatic. She retired in November 2018.