Red Band Society Season 1 Episode 9 Review: How Did We Get Here

Christine Orlando at .
There were several things in Red Band Society Season 1 Episode 9 that were just a hot mess, not the least of which was teenaged pop star Delaney Shaw. 
Delaney had checked in for "exhaustion" and she completely disrupted Nurse Jackson's directive for quiet time on the ward.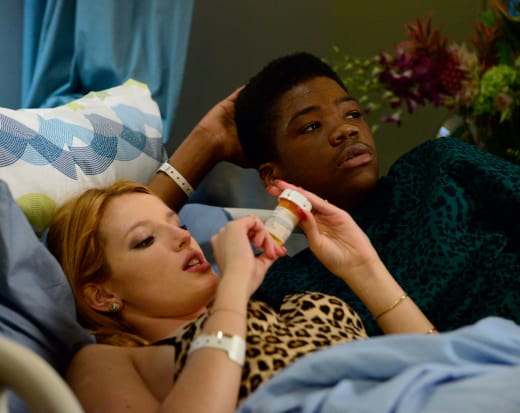 Dash described Delaney as one hot mess who would have sex with just about anybody which was why she seemed like the perfect girl to help him lose his virginity, as he explained to Kara in this Red Band Society quote…
Kara: On what planet do you have a shot at Delaney Shaw?
Dash: Planet hospital where the competition is drastically reduced.

He had a point but he also had some competition. Not that Jordi was after Delaney for sex, just for her attention and the introduction to her manager. Jordi hoped that if there was an upside to having cancer it would be that it put him in this hospital to have his musical talent discovered. 
Unfortunately there was a price. The deal was for Jordi to hand over ten pain pills for ten minutes with her manager. Instead of telling Delaney what to do with her request, Jordi sweet talked some poor old woman having her chemotherapy session in order to steal her pain pills. 
Jordi has been my least favorite character since the beginning of the series. This incident did nothing to change that. 
Elsewhere Kara and Hunter were trying to hook up in a bathroom stall. Obviously Kara's not looking for romance, nevertheless her heart seems to be getting the better of her where Hunter is concerned. Her argument with Emma appeared to push them both to make some decisions…
Go ahead, slut shame me all you want but I'm not the one lying to my boyfriend on a daily basis. How real can your relationship be if it's based on a lie.

Kara
But Emma's not just lying to Leo, she's lying to everyone, most especially herself. Yes, perhaps giving a box of chocolates to your anorexic girlfriend isn't the best choice but Emma's been working hard to make it appear as though she's getting better. 
The meeting with her therapist made me wonder if Emma is somehow faking the weigh-ins again or if she's really managed to gain weight. The thought that she came into the hospital at only 83 lbs is frightening. As she left the hospital with her father it was hard to tell if she'll use the change to get better, or simply starve herself to death. 
Dr. McAndrew was the hardest character to nail down. One moment I liked him, the next I was thinking he's an arrogant ass. 
I could understand why he thought there was hope for him and Erin and he did get completely blindsided when her new boyfriend Sam walked in. But as Erin pointed out, he broke up with her and after three years together and no mention of marriage, she wasn't wrong to move on and pursue her dreams. 
Adam stepping in to rescue Brittany from her horrible date was sweet although pretending that she was pregnant was walking a line. Brittany's being able to not only roll with the story but make Adam out to be the gay father for whom she was a surrogate was most impressive. My esteem for her rose considerably with that scene.
The next morning was painful. Obviously sleeping together was a really bad idea. Not talking about it first was far worse and Adam asking her if she'd ever heard of a one night stand definitely deserved that punch. 
Will Erin find out about Adam and Brittany? Will Kara encounter heartbreak with Hunter and will Leo ever see Emma again. 
You can watch Red Band Society online right here at TV Fanatic.
C. Orlando is a TV Fanatic Staff Writer. Follow her on Twitter.