Stalker Season 1 Episode 7 Review: Fanatic
Paul Dailly at . Updated at .
On Stalker Season 1 Episode 7, we explored what it's like for famous people to have a stalker.
I was really freaked out by several of the scenes tonight -- The show sure succeeds in keeping me awake at night!
90210 star Annalynne McCord guest-starred as the unlucky victim, Nina. Her character wasn't what you'd expect as she didn't come across as an air head as most young, blonde TV stars are portrayed. She was really easy to like.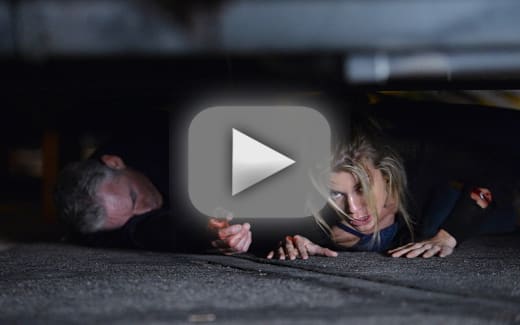 Nina was a woman who knew what she wanted in life and aimed to reach her goals. With four stalkers in three years, she had an active case on file a safe room. She was worried, but also made adjustments for safety. There were a lot of layers to her and seeing her relationship with her sister play out was interesting.
The opening scene was really creepy. The way the camera kept panning and taking the stalker out of frame made me feel like he was going to attack at any given moment. When Nina managed to get into the panic room, I let out the biggest sigh -- the scene was that intense!
We went through several hurdles before finding out the truth. Stalker excels in putting several characters forth as suspects with perfectly plausible motives, before pulling the rug from under us and completely changing it in the last fifteen minutes. This keeps us on our toes.
I think the story's purpose served to show us that famous people don't have it as easy as we are led to believe. 
Nancy was a very interesting villain. She was deranged. I couldn't believe my eyes when she attacked Nina's security with a knife because it all happened so fast. I don't quite understand why Nina left her trailer unlocked. Surely if she was so concerned about her safety, she would take the necessary precautions in order to be safe. It was difficult to swallow her behavior.
You hurt my little boy. He'd be better off with you gone.

Nancy
Then we have Beth, who is being stalked herself. Perry is one messed up individual. I can't wait for him and Beth to come face to face again. He seemed all too happy watching her sob. Is anyone else looking forward to Beth wiping that smug smile off of his face?
I really felt for Beth. One thing that bugged me, though, was that Beth's friend had her alarm code saved in her phone, giving Perry access to her house when he got a hold of the phone. Why would Beth allow someone to have that number? It didn't seem like something Beth would do, after all, she deals with stalking cases on a daily basis. 
I don't understand what Perry's personal gain is from his pursuit of Beth and her friend. I'm at a loss as to his next move.
Seeing the more vulnerable side to Beth gave us a different view and really opened up her character. My heart sank when she opened the card at work. She understandably thought the man who was responsible for her family's terror somehow escaped from the psychiatric hospital and that he was the one and is stalking her. Although the death of her sister had a profound impact on her, it was heartbreaking to learn she rarely things about her.
What if he found me?

Beth
Meanwhile, Jack returned to the land of annoying. His role was minor here, but I absolutely hated when he quizzed Janice about Beth's past. It is none of his business. They both know that she doesn't exist online. In the tech savvy world we live in today today, there is something off if there's no trace to be found of someone on the internet.
This change in direction wasn't welcome. It was only last week that Jack started to become a character we could respect, but now it's like he took two steps back. Am I the only one who sees Jack that way?
I loved the one-liners from Janice about the TV show. Ben's reactions to her super fan statements were just as good. We need to see a staff night out soon!
Janice: Let me guess: you watch the good wife?
Is anyone else really enjoying the spooky song covers? Every week there is another one that comes from left field. They're all haunting and scream for a soundtrack.
"Fanatic" was up and down. After seven episodes, we know the formula and Stalker seems intent on adhering to it. Beth's personal story has a lot of potential. How long to you think we'll have to wait to meet the behind her childhood pain? Wouldn't it be an awesome twist if he took Perry out for stalking his prey?
Remember you can watch Stalker online right here on TV Fanatic! Get stalking now!
What did you think of the episode? How did you feel about Beth's alarm code being in the phone? Do you think Jack will land himself in hot water by his continued meddling?
Paul Dailly is the Associate Editor for TV Fanatic. Follow him on Twitter.