On The Goldbergs Season 2 Episode 6, we learned just how competitive Barry and Erica are. For me, the introduction of the game Trivial Pursuit brought back a lot of memories.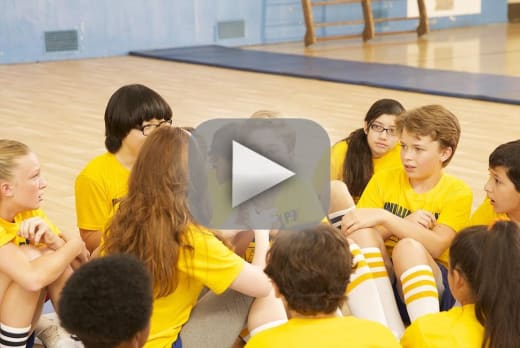 Poor Barry! Trivial Pursuit really took away his giant ego -- we have all been there before when we have lost a game. It is not at all surprising that Barry is a sore loser and gets extremely angry when he loses. At least we can all rest soundly knowing that Barry is going to go to school so he can learn how to beat Trivial Pursuit.
Where can I buy Barrynopoly? I would totally play that game and have far too much fun with it -- especially the arm wrestling portion.
We got a little glimpse at the more human side to Barry. The poor guy really cannot catch a break and with a sister like Erica -- who has shown that she is extremely intelligent -- it has to be tough always drawing the short straw. Barry getting the win, though they were using the children's version of Trivial Pursuit, was the win the he deserved.
Did anyone else feel terrible for Adam? Poor kid knows that he is not cut for dodge ball; yet it was Beverly that took it the hardest. Fans of the show are no longer surprised by the lengths that Beverly will go to protect her kids, but it was nice that it backfired on her. 
Was anyone else irritated that Beverly got Coach Rick fired? Now don't get me wrong, I love Beverly, but she went way too far tonight. Going to the school to get the coach fired because you do not want your son to take part in dodge ball was a little far fetched. Well, maybe not nowadays, but in the 80s anyway! However, Beverly was redeemed by the end of the episode when she was working with Coach Rick to get his job back. 
Oh Murray! You tried helping out but it just ended up backfiring on you. This is why Murray is the unsung hero on The Goldbergs; he knows that his wife goes way too far and he tries to right her wrongs. Murray really is the perfect match to Beverly's more high-strung personality -- no wonder these crazy kids love each other and are in it for the long haul. 
Can we please have more of Coach Rick? His inspirational quotes alone are justifiable reason to showcase him in every single episode.
It was yet another solid half-hour for The Goldbergs. While many shows going into their second season start to show signs of aging or slowing down, The Goldbergs proves time and again that the sophomore slump does not apply here.
Do not forget that you can watch The Goldbergs online now via TV Fanatic!
Samantha McAllister was a staff writer for TV Fanatic. She retired in November 2018.