The Real Housewives of Atlanta Season 7 Episode 1 Review: Bye Bye and Bon Voyage

Christine Orlando at . Updated at .
It's the return The Real Housewives of Atlanta Season 7 Episode 1 as the fussing, feuding, and name calling continues and we recap it all in our +/- review.
NeNe Leakes heads to Las Vegas to MC the Cirque du Soleil show Zumanity and this woman must have the hardest working agent in Hollywood because she's everywhere. Plus 13.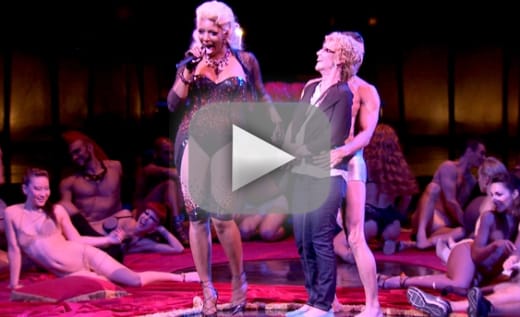 I've got to say it was kind of comical to hear NeNe getting weirded out by the nudity in the show. She used to make her living as a stripper for goodness sake! Minus 22.
But it was the orgy scene that pushed NeNe over the edge as she explained to Greg in this The Real Housewives of Atlanta quote...
Threesome. Foursome. Fivesome. None of that works for me, honey. They would have to have a lot of hand sanitizer.

NeNe
Forget NeNe finding her inner drag queen, there was pleny of drama happening back in Atlanta. 
It was sentencing day for Apollo Nida as he was charged with bank fraud, mail fraud and wire fraud. Apollo was clear that he got caught because one of his co-conspirators turned on him. Um...how about he got caught because he committed a crime! Minus 40.
But he was most upset about Phaedra heading to a hotel with the kids instead of heading to court with him...
My wife and children, they left and the woman I thought was supposed to be there for me and cherish me, she's no where to be found.

Apollo
Of course there's another side to this story. Phaedra feels betrayed. She gave him a second chance and he went right back to a life of crime. 
It's all kind of sad. In the middle of their squabbling there are two little boys who are about to lose their daddy. And what is it with the Mama's on this show? Phaedra's mother should not have been in the middle of the argument between Phaedra and Apollo. Minus 25
When Apollo said he was going to file for divorce, Phaedra looked more relieved than sorry.
Kenya Moore returned from a three month trip around the world but she's still upset about how she was treated after Porsha took her down by the hair during last season's reunion show. She even filed charges, which only made her more enemies. 
Too bad you can't charge someone for being an obnoxious instigator with a bullhorn. Minus 14.
Porsha's still around and hanging out with Kandi but it doesn't look like she's a show regular any longer. 
Speaking of Kandi, she and Todd are trying to have a baby while his grown daughter is about to move in. That sounds like trouble. 
I have to say, I agree with Todd on parenting styles. Structure works better than over indulgence and Kandi does appear to deal with issues with Riley by buying her whatever she wants. There's a line between making your kids happy and turning them into spoiled brats. We simply haven't seen enough of Riley to know which side of that line she falls. 
Finally there's Cynthia who says her friendship with NeNe is over. She'd get a plus 27 if I honestly thought we wouldn't have to listen about their split all season long. 
Cynthia says the good news is that she's getting to spend a lot more time with her husband Peter. Peter's so much in love again that he asks Cynthia to partner with him on his next venture. For those of you who may not have watched this show before, that's code for I need your money again to get my business off the ground. Minus 43.
Episode total = -104! Season total = -104!
If you missed a minute of the drama, you can watch The Real Housewives of Atlanta online here at TV Fanatic. 
C. Orlando is a TV Fanatic Staff Writer. Follow her on Twitter.