The Real Housewives of Atlanta Season 7 Episode 4 Review: Kenya Kares
Miranda Wicker at . Updated at .
On The Real Housewives of Atlanta Season 7 Episode 4, the fallout from The Apollo Confession continues as Kenya plans to mend fences with the other women.
NeNe thinks things won't go quite so smoothly. (NeNe knows best lately, so...)
Let's break it all down in our =/- review!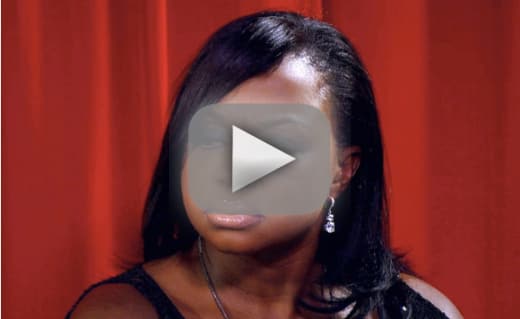 At the Kandi Factory, Kandi's recording studio, Todd tells Kandi he's frustrated because she has so many projects in the air and nothing getting finished. Her team is on a "mental break" and busy planning parties and doing their hair and not doing their work. 
Todd steps in to speak to her employees and that just doesn't seem like a good idea. Minus 4.
Claudia's running late for work because she's not a morning person. But she works on a morning show. So, you know. Minus 8.
She calls her job "kind of like a big responsibility." Uh, you think? Minus 6.
Porsha's working for Dish Nation as an on-camera personality and she says that Claudia wanted that job and didn't get it. This is sounding a WHOLE lot like the Gretchen-Alexis-Heather drama from The Real Housewives of Orange County. 
Claudia stops by to speak to Porsha and wish her a good show and Porsha says NO-THING to Claudia. Maybe even less than nothing. All because Claudia is friends with Kenya. 
When Kandi and Todd come out to talk to the team, Don Juan, her right hand man, says he thinks it's all coming from Todd and not from Kandi. To quote Todd, "that's f*cked up."
Cynthia and her weave head to Garb shoe boutique to meet up with Kenya and HER weave, both of which are tucked under hats since it's raining. Kenya's bringing Claudia who is NOT wearing a hat but who IS wearing a shorts jumpsuit. 
Claudia won't wear any shoes that don't cover her toes and Cynthia won't try on shoes (which she doesn't intend to buy, probably) because she didn't have time to get a pedicure. Minus 22.
Talk eventually turns to Porsha and Cynthia's lunch and Kenya asks if Porsha wanted to borrow Cynthia's hair. Plus 4. 
Props to Kenya for trying to take the high road and telling Claudia that it can't hurt to talk to Porsha about their work related issues. She knows things won't work out because Porsha "doesn't have a brain," but hey, Plus 4 for the reasonably good advice.
Plus 15 to Kandi for taking Phaedra for a spa day. She needs it. Kandi has started drinking since marrying Todd and all the women find this hilarious. 
Porsha tells the girls about her meeting with Cynthia and says Cynthia gave her the "robot read," which is a list of bullet points her husband gave her to cover. Oooh, Peter's going to go off when he catches wind of that comment.
Then Kenya comes up in conversation. 
NeNe drops the bomb that she doesn't believe the Apollo Confession is genuine. Apollo, she says, lied about lying in order to hurt Phaedra. Phaedra doesn't know what to believe and Kandi thinks some of the women just don't like Kenya. They're all grown women. It's okay if they don't all get along.
Apollo visits Peter at Bar One and Peter says he'd be freaking out if he were Apollo and staring down a 5-6 year prison sentence. Apollo tells Peter he hasn't been around the house much. Peter doesn't think that's a good idea and tells him to spend 18 hours a day with his boys. Plus 18.
Apollo misses the days when Phaedra was "down." And by that he means down for coming to visit him when he was sleeping on an air mattress in a halfway house in the projects with an ankle monitor. He doesn't understand why things can't still be THAT way.
Oh, I dunno, maybe it has something to do with the fact that you're both household names by virtue of this television show you're on and YOU CONTINUED TO BREAK THE LAW. Minus 15.
Claudia and Porsha get together for drinks and there's no small talk before Claudia straight up asks her what's going on with them. Claudia says she thinks that her friendship with Kenya is the reason Porsha's been so cold, right after Porsha said sometimes if she doesn't talk to Claudia at work it's not personal.
While that's sort of...whatever...it's legit. And then Claudia says she really just wants Porsha and Kenya to have lunch and talk. HAHAHA. Minus 25
When Claudia keeps pushing the issue about Kenya and Porsha, Porsha just changes the conversation and starts talking about her Tom Ford body lotion.
Don Juan comes into Kandi's office and says he felt bombarded by the fact that Todd was sitting in the meeting because Todd doesn't run Kandi Koated Entertainment. He's "ride or die" for Kandi and thinks his personal sacrifices should trump her husband's reprimands. 
PUPPIES! Plus 22!
Phaedra takes Aiden to visit puppies at the Atlanta Humane Society. She's thinking about adopting a puppy. IT'S ADORABLE!
After his conversation with Kandi, Don Juan and Todd sit down to talk. Don Juan says Todd puts ideas in Kandi's head and Todd says all he's really trying to say is that Don Juan needs to learn how to manage the team instead of doing everything himself. 
They SAY they're cool, but I don't believe it.
Kandi joins Kenya in a kickboxing class because nothing says working out your frustrations and issues like wearing some big ol' diamond earrings and hoops and taking kickboxing. Minus 8.
Kandi plans to apologize to Kenya for the past two years worth of dissing about Apollo. While they're doing cool down stretches. They're obviously annoying the rest of the class participants, probably because they're there in the first place, but especially because they're talking the whole time. 
Kenya accepts Kandi's apology, and then Kandi tells her NeNe and Porsha don't believe him. Kenya breaks into tears and walks out because she's maintained from Day One that it never happened. Awww. Kenya Kares.
You will most definitely want to watch The Real Housewives of Atlanta online next week because ALL OF THE WOMEN are getting together. ALL. The Fourth of July's got NOTHING on the upcoming fireworks!
EPISODE TOTAL: -25 SEASON TOTAL: -214
What did you think of The Real Housewives of Orange County? Who's telling the truth, Apollo or Kenya? 
Miranda Wicker is a Staff Writer for TV Fanatic. Follow her on Twitter.