A to Z Season 1 Episode 9 Review: I is for Ill Communication

Mary Kate Venedam at . Updated at .
It's beginning to look a lot like Christmas for the new couple! 
On A to Z Season 1 Episode 9, Andrew and Zelda decided to keep their true feelings about Christmas to themselves. It kind of blew up in their faces, but it did lead to a big, and equally adorable, moment in their relationship.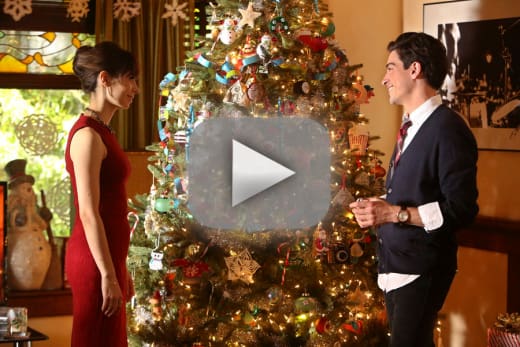 It seemed like it was going to be a happy, happy first Christmas for Andrew and Zelda. Planning and buying presents for each other and bonding with the other's friends was just the start of it. 
It's fun to see Andrew and Zelda bond with Stephie and Stu, respectively. They both have such different interactions. Andrew and Stephie get along great. Stu and Zelda, on the other hand, know they are not the best of pals, but do it anyway for Andrew. The butting heads makes for a more entertaining relationship. 
One of the best bits of the episode was Stu being mistaken for Santa. It fit perfectly watching him talking and taking pictures with the kids. There was even a reference to my favorite Christmas movie, The Santa Clause. The situation even allowed Zelda bond more with Stu. 
Maybe it's the whole Santa vibe that you are throwing down right now, but I fell I can open up to you.

Zelda
When things got awkward for Andrew and Zelda, Stu made everything so much funnier. Let's put it this way, Stu was the MVP of the episode; hilarious at every turn.  His frenemy relationship with Stephie always leads to laughs and even when you think they get along, they don't. 
When trying to work out a Wallflower complaint, Lydia recruited some poor, left behind employees to help. Stu has a knack for issues because he got those Wallflower employees out of there and hilariously fast.  Of course, the left behinders included Dinesh, Lora and other awkward employees. Coincidence?
Amongst Lydia's usual bullying, we saw an almost vulnerable side to her and the odd relationship she has with Howard. I almost thought Lydia was feeling the same unrequited feelings Howard has for her, but it made perfect sense. Howard is her 'work husband.' Good thing because that Wallflower user Howard dated seemed seriously crazy. 
Finally, Andrew and Zelda. 
It was interesting the two didn't want to reveal their true feelings about the holidays to each other before they got in too deep. But, as the narrator truthfully put it, it's normal to pretend everything is OK when it is not. I bet most people would agree with this tradition.
Narrator: It was 4 days before Christmas, and Andrew and Zelda were engaging in an old holiday tradition: Pretending they were happy when they weren't.
The ending was absolutely adorable, and it felt as if it was pulled directly from a holiday romantic comedy. Andrew and Zelda forgave each other, walked away, and just when Andrew turned around to see Zelda again, she was there. Even the song was perfect ("All I Need" by Mat Kearney, if you were wondering). 
It was a perfect moment for Andrew and Zelda to say, "I love you," especially since it came from the less romantic Zelda first. I'm still saying "Awww..." to myself when thinking about it. 
What did you think of this holiday episode? Was it about time Andrew and Zelda said the "L" word? 
If you want to catch up on what has been happening, make sure you watch A to Z online via TV Fanatic.
Mary Kate Venedam is a staff writer for TV Fanatic. Follow her on Twitter and on Google+.