American Horror Story Season 4 Episode 9 Review: Dead-sperate Housewives
Miranda Wicker at . Updated at .
After American Horror Story Season 4 Episode 9 I'm suddenly very glad that Tupperware parties are a thing of the past.
On the one hand, they provided a nice period throwback for tonight's episode and on the other, four (five?) women ended up floating in a pool and nobody wants that to happen at the end of their pyramid scheme party, you know?
Perhaps the deadsperate housewives offended Dandy Mott's delicate sensibilities when they didn't adequately burp their plastic containers!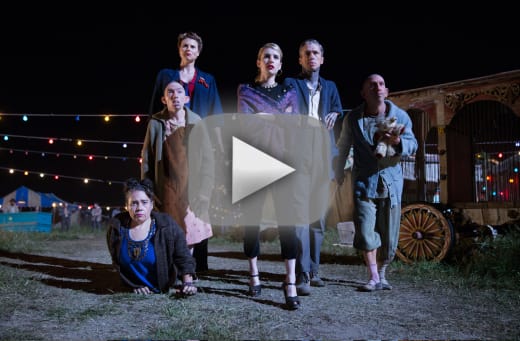 Yes, it's been said before, but Dandy Mott is a maniac. An amazingly intriguing, deliriously deranged maniac (with a nice derriere). Prior to tonight, it seemed as if his story were being written so that his upbringing and access to all of his heart's desires were at least partially to blame for his sociopathy. He acts out because he's bored. This episode tweaked that just a bit. 
He's definitely a sociopath, and he's definitely bored, but he also believes he is allowed to behave this way because he has the money to clean up his mess or to have others clean up for him. The game has become not who he can kill but whether or not he can get away with it.
RIP Regina. You tried. (Seriously, though. Gabourey Sidibe was way underused. I feel cheated.)
He's so charming and effortless and flashing that grin and then just "Bam! Slice! Whack! Let me sew your head onto my mother so I can pretend you are the women I was going to force into marriage."
Because that's not weird AT ALL. Not to mention the floating bodies he left in the pool and later used to set up Jimmy Darling. What sorts of threats did he employ to make it so that none of them fought back or escaped? Straight up fear probably would've worked on that group, but still. 
I'd like to know how he knew Jimmy would be at that house or if his arrival there was strictly coincidental. I suppose we're to imagine Dandy was following Jimmy in order to set him up, but who knows. Jimmy is in jail for the murders and it's up to Maggie and the freaks to get him out. With the police on Dandy's payroll, that won't be easy.
While Jimmy was being a bit of a disgusting, drunk pig, my heart broke a little for him when he hallucinated Ethel. He wants to be a man and has moments of acting tough and strong like a leader but at his core he's a sad boy who's lost his mother. He needs guidance and direction and the freak show life doesn't seem to be the place for that. His father certainly isn't going to step up in Ethel's absence and help him figure out life. Not that he would listen in his chronically inebriated state, but still.
It was so hard to watch him continue to drink that at one point I actually said, out loud, in my living room, "put down the bottle, Jimmy! Just put down the bottle..." He threw it against the wall, so hey! My pleas worked.
The Tattler sisters also broke my heart, and after their rejection, I wonder what's coming for them. Their conversations tonight, with each other especially, but also Dot's with Jimmy, were beautifully written and performed. Sarah Paulson gets all the credit for the latter. The woman has some incredible acting range. 
When Bette started talking about how love is sacrifice, it was clear that Dot would have a change of heart. Neither of these sisters can live without the other, no matter how strong Dot thinks she may be. They need one another. 
I don't want to see the sisters suffer the same fate as Ma Petite, but I fear Dot is so brokenhearted Bette won't be able to stop her from making a grave mistake, and Stanley will be the only one who benefits. Or they'll find the real surgeon and undergo separation and Bette will turn out to be the strongest sister.
It was nice that tonight took a step back from Elsa being center stage and focused instead on some real character moments for the supporting Freak Show principals. Not being subjected to any weirdly overwrought new age musical numbers is always a plus. Jessica Lange, like her character, has to share the spotlight sometime.
What did you think of "Tupperware Party Massacre"? Will Maggie be able to get Jimmy out of jail? What will become of the Tattler sisters now? Don't forget you can watch American Horror Story online right here at TV Fanatic!
Miranda Wicker is a Staff Writer for TV Fanatic. Follow her on Twitter.