Covert Affairs Season 5 Episode 15 Review: Frontforwards
Paul Dailly at . Updated at .
Who knew kidnapping the enemy would actually be saving him?
That's exactly what happened on Covert Affairs Season 5 Episode 15.
Belenko is one of the worst type of villains. He thinks money buys everything. Tonight backed this up when he had the police in has back pocket in Argentina. Belenko is really weak. The way he assumed Annie and McQuaid would make a deal with him. Who would make a deal with the devil?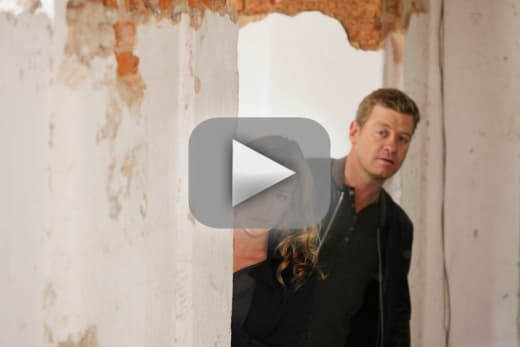 We were treated to a lot of Annie and Auggie scenes. There is still something between these two. I wasn't ruling out a shared kiss between them when Annie was trying to find a tracker on him in the church. Annie must have found it awkward when McQuaid barged in. Her hesitation meant she thought McQuaid would be jealous. He wasn't. He's a keeper!
This is Argentina, the exchange rate is working in my favour.

Belenko
The prison scenes were the weak links. I understand Argentina might not have as much security as over here, but surely they would know where the tunnels under the prison lead. Don't even get me started on the way Annie just stood there for about 30 seconds when Belenko showed up.
The team took a big risk tracking down James in the first place. The way Belenko works made it surprising he wasn't already dead. Who's to say Belenko hadn't just fed Auggie that tidbit of information on Covert Affairs Season 5 Episode 14, fully knowing the team would go looking for him?
Speaking of James, he was so ungrateful. He didn't utter so much as a thank you to McQuaid who helped him escape. Then he wanted to go after Belenko unarmed. It was all too easy. It wouldn't be a surprise if James is actually working with Belenko. 
McQuaid was really comical this week. The scene in the car was a highlight. The things he said to Belenko were so random. 
James: Where is he going?
McQuaid: Your mother's waiting downstairs for a conjugal.
Elsewhere, Calder was out for blood in the wake of Sidney's shooting. He went straight to Marshcaf. It was so obvious Calder would be waiting for him. Marshcaf had nothing to do with it. It's understandable if someone hurts a loved one you will go to any lengths to find the guilty party. 
Joan had to come to the rescue and do some damage control with the Russians. Joan is a really smart woman. I was happy she knew straight away that something was off and they want Belenko dead because he knows too much. 
So... we know the same bullet that killed Olga shot Sidney. This was predictable. Will Calder want a one-on-one with Belenko to shoot him? Probably. 
There was a lot of funny dialog tonight. The episode was a lot lighter than the darkness of the past few. Joan was outstanding. Hopefully we'll start seeing more of her again.
"Frontforwards" was a disappointing episode. Sure, we got a lot of information, but there was too much time featuring the characters just walking around Argentina as if they knew what they were doing. Hopefully the finale next week will be excellent and bring an end to the Belenko storyline. 
Other tidbits from the episode:
Just how connected is McQuaid?! He has connections everywhere.
How high was the doorbell to the house James lived in. Annie almost needed a ladder.
Why bring Tasha back for all of 10 minutes last week and barely explain her absence this week with scarce information?
McQuaid leaning on the police car was so funny!
Remember you can watch Covert Affairs online, right here on TV Fanatic! Relive the capture of Belenko when you watch online!
What did you think of the episode? What do you think will happen next week? Hit the comments.
Paul Dailly is the Associate Editor for TV Fanatic. Follow him on Twitter.