Sons of Anarchy Season 7 Episode 13 Review: Papa's Goods

Christine Orlando at . Updated at .
Jax Teller found his ending on Sons of Anarchy Season 7 Episode 13 as the final episode of the series wrapped up loose ends and gave us a glimpse at an uncertain future.
It began with Jax burning his father's journal and his own. All of that time spent on writing all of those words to their sons went up in smoke as Jax destroyed his and his father's legacy along with all of the photos that went with them. Jax hoped to erase his past so his own sons wouldn't repeat it.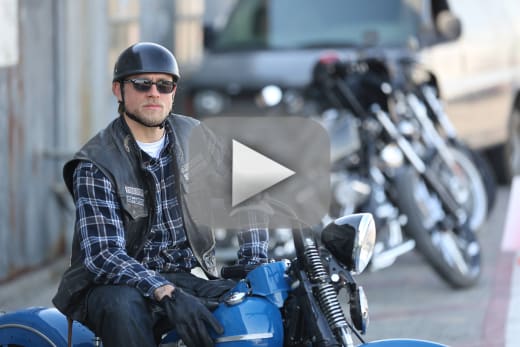 From the beginning it was clear Jax had a plan. Exactly what that was was the question.
As many predicted, Jax got the ban on black members lifted and T. O. from the Grim Bastards was voted in as a full member of SAMCRO. That wasn't the only thing within the club that was changing. 
Connor led the boys on one hell of a crazy chase that had me holding on to the edge of my seat waiting for someone to end up dead. Somehow, the wild ride only led to Connor's escape but it didn't last long. Instead of murdering Connor, Jax brokered a new deal that included killing an Irish King and going rogue on guns. It meant Jax was finally able to cut the ties with the Irish, something his father had hoped to do 20 years before. As Jax said, better late than never. 
Jax and Chibs had one more heartfelt chat on the rooftop. I really felt for Chibs. He looked completely gutted as he realized what Jax was asking of him and where this plan would lead. The realization was horrifying. 
District Attorney Patterson's words to Jarry about being the right woman to police Charming obviously held a lot of weight as it spurred her to cut ties with Chibs as she explained to him in this Sons of Anarchy quote…
I don't want your payoff and I don't want you. From now on I'm just a cop, you're just an outlaw. We both do what we have to do.


Jarry
It was cold but Chibs' response about cops on the wrong side of the club not lasting long was even colder. Apparently someone doesn't take getting dumped well at all. 
Nero and Jax made for another gut twisting scene as Jax explained how he wanted Nero to make sure Wendy got his boys far away from Charming. Nero needed his shades to hide the tears as Jax made his feelings clear and then said goodbye to his sons for the last time.
When the time comes she needs to tell my sons who I really am. I'm not a good man. I'm a criminal and a killer. I need my sons to grow up hating the thought of me.

Jax
For me, that was the best and most heartbreaking moment of the night. How much must Jax Teller loathe himself and all he's done to be able to walk away from the boys he loves with all his heart? 
Nero: What are your doing here Jax?
Jax: What I should have done when my wife was still alive.

As Jax watched his boys drive off, knowing it was the last time he'd ever see them, all I could think was that if he had just gone up to Oregon with Tara as they'd planned, everything might be so very different. But the needs of Clay and Gemma and Jax to be immersed in his club made that impossible. 
Jax's murder spree at the end was almost lightweight compared to all of the carnage we've seen throughout this season and loose ends were tied up in a bloody bow as quickly as possible. 
Jax finally got to ask the mysterious homeless woman who she was only to have her say, "It's time." So was she a guardian angel, the angel of death or simply a crazy, homeless woman wandering the streets? Jax looked the part of the grim reaper as he sat under that blanket on the steps waiting to kill August. Even Marks looked as though he couldn't believe what he was seeing as Jax opened fire in such a public place in the middle of the day.
I honestly thought Chibs was going to shoot Jax at the end after they all said their goodbyes. When that didn't happen I wasn't sure where it was all going to end, until Jax stopped to talk to his father. Then it all became clear. It was a nice touch having Michael Chiklis as the driver of the truck. 
One of the few light moments was seeing that Tig and Venus were still together. It's nice to know one couple remained intact. The other was knowing Nero finally got to head to his farm and that Abel and Thomas were being looked after by he and Wendy.
However, watching Abel turn that ring on his finger made my stomach turn. Had Gemma's plan for having her grandson continue the SAMCRO legacy taken root or would Nero and Wendy be able to put an end to it? I suppose we may never know. 
In the end there was bread, wine, and blood. And Jax Teller saying, I got this, as he ended things his way. Not to mention the parting quote at the end.
Doubt thou the stars are fire;
Doubt thou the sun doth move;
Doubt truth to be a liar;
But never doubt I love. 
How many shows about an outlaw biker gang can end with a quote from William Shakespeare? Sons of Anarchy was a show I never thought I'd watch. What did I care about a biker gang? But when I finally saw an episode, I wouldn't dare miss another. At times horrifying, often gut wrenching but always entertaining, Sons of Anarchy will be missed. 
Your turn, TV Fanatics. Grade the Sons of Anarchy series finale:
And if you miss it already, you can watch Sons of Anarchy online any time right here at TV Fanatic. 
C. Orlando is a TV Fanatic Staff Writer. Follow her on Twitter.