The Mentalist Season 7 Episode 2 Review: The Greybar Hotel

Christine Orlando at . Updated at .
A well conceived plan went horribly wrong on The Mentalist Season 7 Episode 2 leaving Patrick Jane scrambling to catch up. 
When Marie Flanagan wouldn't flip on her boyfriend Cole Foster, the FBI went for Plan B and sent Teresa Lisbon to jail to be Marie's cell mate. It was a good plan with lots of fun moments along the way.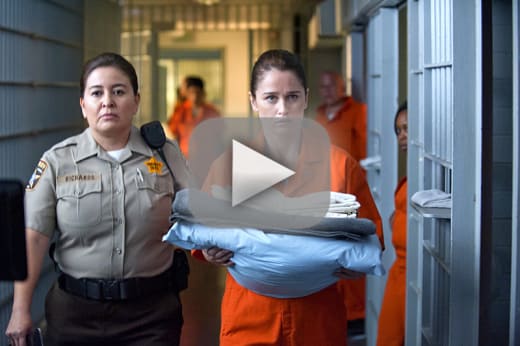 I loved how Jane was giving Lisbon advice about how much to lie and to wear her flip flops in the shower. When he helped put the cuffs on her I was half expecting a kinky comment, instead he went for pseudo-sweet when he told her, "I'll wait for you."  
I can only imagine how difficult the waiting must have been for Jane. At least Lisbon had to keep focused on the task at hand. All Jane could do was worry about her and try to hunt down that warehouse. 
I thought it was funny how Abbott asked Jane to point out the warehouse after he'd narrowed it down to a four mile radius. I couldn't tell if he was being sarcastic or if he was asking because he knows better than to underestimate Patrick Jane. 
Jane and Lisbon's phone conversation incorporated good advice to get Marie to open up wrapped around the couple sharing insights into their own journey of doing the same, as Jane told Lisbon in this The Mentalist quote…
Jane: You want to know how I got her to lower her guard?
Lisbon: How?
Jane: I lowered my own.
When Jane later suggested the jail break, I thought it sounded like a highly entertaining idea…I also wondered how it would go horribly wrong. 
You'd think the FBI could have put a tracker on Lisbon since they knew when the jailbreak would take place but maybe they thought it was too risky. If Cole found a tracker on her later, it was a sure death sentence. Of course, if they'd been tracking her, at least they would have been right there to stop it. 
No one knew Cole was such a loose cannon that he'd kill a gas station attendant in cold blood. Lisbon looked shell-shocked. There was nothing she could have done but having a murder committed right in front of her had to be overwhelming.
Jane looked absolutely terrified when he ran into that gas station convenience store. All he knew was someone had been shot. He obviously didn't know who.
That Vega wanted to stick to strict protocol was to be expected. She's a rookie and she's not sure what to make of Jane.  But Jane's worked with Lisbon for years and he knows she'd never make a silly mistake like stepping in blood at a crime scene. 
When they held that gun to Teresa's head, I think I felt more for Patrick than I did for her. I completely understood why he walked into the middle of that scene unarmed and with no foreseeable backup. I don't think he could survive losing another women he loves. He'd rather die with her than get left behind. 
I couldn't believe Jane was able to restrain himself to the point of not hugging Lisbon when they were saved. Talk about self control!
Other points worth mentioning:
Wiley was a hoot as he worried about Taco the cat. Do you think Big Vel, the horse thief is real?
Vega feeling comfortable with Cho makes total sense given her no nonsense style and military background.
Drinking from Jane's tea cup! Shouldn't alarms have gone off? He really needs the blue one back. 
In the end, I had one disappointment. I desperately wanted to see the reunion scene between Patrick and Teresa when they got home at the end of the day, even if it was just for a moment. But other than that, I have no complaints. It was a fun hour with enough twists and turns to keep me on the edge of my seat and leave me wanting more. 
Can't get enough? You can watch The Mentalist online right here at TV Fanatic. 
NOTE: The Mentalist Season 7 Episode 3 will be titled "Orange Blossom Ice Cream" and it will air next Sunday.
C. Orlando is a TV Fanatic Staff Writer. Follow her on Twitter.