The Mysteries of Laura Season 1 Episode 10 Review: Fertility Fatality

Samantha McAllister at . Updated at .
On The Mysteries of Laura Season 1 Episode 10, we learned more about Laura – leading to some shedding of tears.
Laura's reaction to not wanting to hear spoilers for a show she hasn't watched yet is basically how I react as well.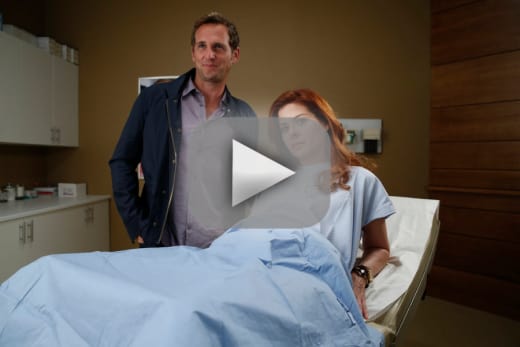 Billy and Laura thumb wrestling put a huge smile on my face.
The banter at the horse stables solidifies how perfect Billy and Laura are as partners. They know a lot about each other; though they never judge one another. 
Billy actually had more to do this week, which was a refreshing change. We all know the show is about Laura, but the ensemble is so good it's a welcome change when we see the other members of the cast getting more screen time. 
Speaking of the ensemble, Max's sweater vests are slowly becoming a new member of the cast; that green sweater vest was fabulous!
We need to see Max play detective more! Seriously, Max pretending to have a baby was hilarious, but we also got to see how great he is at the job. I could definitely see him becoming either a detective or private investigator; he is clearly cable of doing the job.
I know a lot of people aren't fans of Jake, but I can't help loving him! Jake is honestly a good guy despite his past indiscretions. It's clear that he is trying to change and be a better man; that moment at the end between him and Laura just tugged at my heartstrings. They really need to work on humanizing Jake more so people can get behind him.
Did anyone else want to yell at that group of mothers? We all know the twins can be little terrors, but my goodness those women crossed a line! Laura getting that sweet revenge on the main mean mom was icing on the cake.
Can we please have Alicia in every episode from here on out? Alicia is the perfect companion for Laura and a great nanny for the boys; she deserves a freaking medal!
They need to just put Billy and Meredith together already. We all saw the sparks between the two of them in The Mysteries of Laura Season 1 Episode 9; lets just not drag this out anymore.
My biggest complaint was the main story; it was boring up until the very end. I was hoping we would get a more exciting storyline since the show was gone for a little while, but was disappointed with what we received; though that final moment with Laura on the roof was another layer of Laura we needed to see and it was a beautifully written scene. 
What did you think of tonight's episode? Do you want to see more of Alicia?
Missed the first half of the season? You can watch The Mysteries of Laura online now via TV Fanatic!
Samantha McAllister was a staff writer for TV Fanatic. She retired in November 2018.