The Real Housewives of Atlanta Season 7 Episode 5 Review: Friend or Faux
Miranda Wicker at . Updated at .
On The Real Housewives of Atlanta Season 7 Episode 5, Kandi tries to bring the women together for an airing of grievances. And man, do these women have some grievances to air!
Let's see what's happening in A-town and recap it all with our +/- system!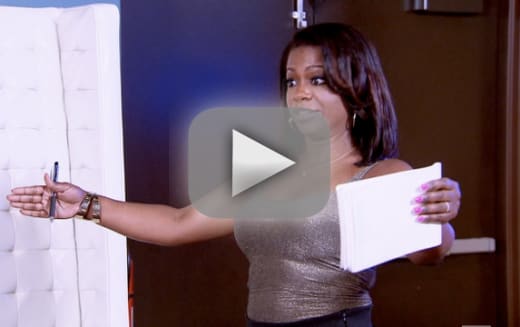 Claudia's having Kenya over for dinner and to show off her new apartment. She has no furniture. And she has no dishes. They're drinking wine out of red solo cups, but hey, nothing to hate there. Plus 10.
"No pussy for Kenya." Minus 4. Claudia has a cat, Shelly. Kenya is a dog lover.
Claudia and Kenya are putting together Claudia's furniture. Well, no. Scratch that. They're going to go find a guy to do it for them. Minus 12.
Kandi gave Mama Joyce a house and then Mama's boyfriend decided to "renovate." Then, because the house wasn't in her name, Mama Joyce decided she didn't want to move in there. Todd is pissed. PISSSSSED. 
Cynthia's mom and sister are at her house, which will probably not make Peter very happy. Cynthia wishes NeNe would have the conversation about their friendship with Cynthia instead of with the media. Plus 10.
Then Cynthia says she let way too much go on for way too long essentially calling herself a wet blanket. Truth bomb. (Do people still say "truth bomb"? Oh well.)
Phaedra invites Kandi over for the afternoon. Apollo hasn't talked to Phaedra about when he has to go away to prison. She believes Apollo is lying about lying and says that it would be easier to believe Kenya if Kenya's behavior hadn't been so inappropriate for two years. 
Kandi wants to get everyone together for dinner since no one seems to be getting along. This will be awesome. 
NeNe and Gregg are trying to teach Brentt to drive. Minus 18 for the extra "t" in that kid's name. 
Claudia and Kenya are BFF and Claudia wants Kenya's ass so they visit Kenya's trainer and make sexual innuendos all over the equipment. 
They have a shared history in that neither of them are close with their mothers. Claudia also struggled with not fitting in growing up.
Kandi calls up her aunts to vent about Mama Joyce and one of Kandi's aunts suggests boxing gloves. SHE IS THE BEST AUNT. Plus 12.
The infamous dinner party has arrived and Phaedra gets to the restaurant first. She prays that God will help them stand against whores and liars. Minus 10.
Kenya arrives and issues a "Hi, Phaedra" which is met with a "hey." NeNe enters to the sounds of dramatic music which is not a good sign.
Once everyone arrives, Kandi says she brought everyone together so they could just move forward. Kenya is the first to speak and she brings up the fact that Cynthia had a party and the Apollo Confession took place. She says giving her the benefit of the doubt is the right thing to do.
Nene responds and says she doesn't think Phaedra and Kenya fell out over the rumors but the Donkey Booty video. Kenya asks for a clear and clean slate and Phaedra gives her one but Kenya calls that not an apology. 
That's about as good as it's going to get between those two, but given the fact that Phaedra's husband is going to prison and Kenya is Gone with the Wind, I'm willing to give her a pass. 
Next up, Kandi turns the tables on Cynthia and NeNe. NeNe says she never knew she and Cynthia had a falling out until they were all together at the reunion. Cynthia says it had nothing to do with anybody at the table except the two of them. 
And now they're going to lay it all out there for everybody.
Cynthia says she got a text from NeNe after Kenya's charity event that...and then they started talking at the same time and NeNe pulled a NeNe and no one else can get a word in. Minus 12.
Kandi says this isn't what she had in mind. Minus 18.
We'll find out whether these two are able to make amends next week.
EPISODE TOTAL: -42 SEASON TOTAL: -256
Don't forget that you can always watch The Real Housewives of Atlanta online right here at TV Fanatic!
Miranda Wicker is a Staff Writer for TV Fanatic. Follow her on Twitter.