The Real Housewives of Beverly Hills Season 5 Episode 3 Review: Pay Attention to Me!

Christine Orlando at . Updated at .
It was all birthday parties, marriage stories and non-apologies on The Real Housewives of Beverly Hills Season 5 Episode 3. We recap it all right here in our +/- review.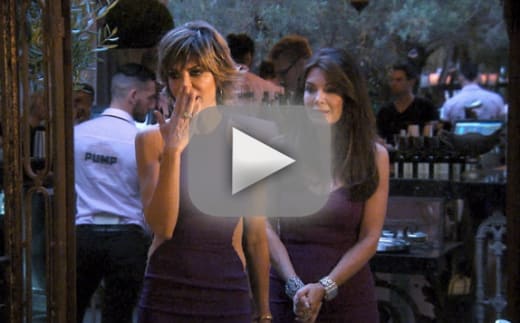 Lisa Vanderpump says that hosting dinners for her friends at her own restaurants is too much like work, but she'll do it for a good friend like Lisa Rinna. 
First question, did Ms. Vanderpump have that pink suit specially made for Ken? Minus 20 to ourselves for the silly question. If Lisa has all of her blouses custom made, we can't imagine her husband is buying pink suits off the rack.
The party was quite the success although I had to laugh a little at Lisa Rinna lamenting that most people don't understand the difficulties of being married to another actor because they're always working different schedules. I'm pretty sure that lots of couples out there work completely different shifts and have many fewer perks to show for it. Minus 17.
But her story about meeting her husband Harry Hamlin after actress Nicolette Sheridan dumped him for singer Michael Bolton was entertaining. Plus 30. And after 17 years of marriage and two children, Lisa actually thanked Michael Bolton when she met him. 
Brandi Glanville was upset because ex-husband Eddie Cibrian was suing her for $100,000 in back child support because of the money she's made from her books. It seems no matter how much success these two find, they will always be one hot mess. Minus 13.
Brandi cold called Lisa Vanderpump to ask if she was coming to her party. Talk about awkward! Lisa was quick to point out that Brandi's never apologized. It sounded like Brandi feels as though she's due the apology. Minus 21
My guess is it will be a cold day in hell before she gets one. Lisa and Ken supported Brandi through a lot of crap and then one day Brandi decided she didn't need it anymore. As Brandi said in this The Real Housewives of Beverly Hills quote...
I don't want to have that friendship with her again where I'm her sidekick.

Brandi
I don't think Brandi has to worry about it. I don't think there will be a friendship there at all, sidekick status or no. 
Lisa Rinna brought fellow soap actress and Daytime Emmy award winner Eileen Davidson to the fold. 
Eileen and I have always connected because I think we both respect each other's hustle.

Lisa Rinna
I'd say so, since they've both hustled themselves into the world of the Bravo Housewives. Plus 33.
Kim took sisters Kyle and Kathy HIlton along to help her daugher Brooke shop for a wedding gown. It's kind of funny how no matter how much or little money you have, everyone has that aunt who will say exactly what they think, whether you want to hear it or not. 
Finally Yolanda and David Foster hopped a private jet to Europe and Maurico needs to take notice. This is a private jet! The plane was bigger than my home. Plus 50 because that's what I want to see when I tune in to The Real Housewives of Beverly HIlls.
Episode Total = +42!  Season total = +72!
You can watch The Real Housewives of Beverly Hills online right here at TV Fanatic. 
C. Orlando is a TV Fanatic Staff Writer. Follow her on Twitter.