American Horror Story Season 4 Episode 13 Review: Curtain Call
Miranda Wicker at . Updated at .
Well, that was definitely a curtain call for American Horror Story Season 4 Episode 13, and I daresay there will be no standing ovations or clamoring from an encore from the audience.
If ever there were a prophetic line in a television show, Elsa's "always leave them wanting more" was it.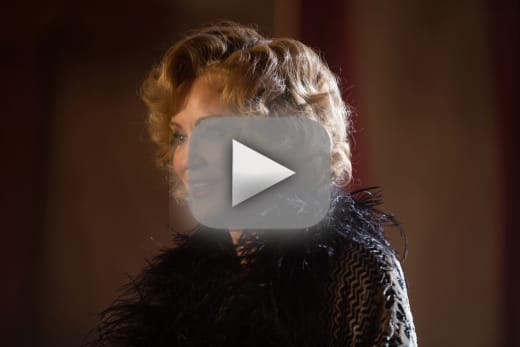 As I sit here and try to write this review, it's growing increasingly difficult not to retroactively re-review the entire season. Overall, while the season had some high moments, it had quite a few more lows. For talent and set design, along with costuming, and creating at least a few characters I really cared about, I'll give the season a 3.5 overall.
As for the season finale alone? 1.5 stars. And that feels generous.
For starters, what's with the massive bloodshed and character deaths in AHS finales? The whole Murder House family dying so they could live together forever in the afterlife happened and even though I thought he should've just kept living in the house with his dead family, I bought it. Lana Winter shooting her own son felt sort of...circular. The dying of several witches in Coven was explained ahead of time as a byproduct of attempting the seven wonders. 
It was bad enough to watch Stanley murdering and dismembering freaks for the museum this season, but at least that was grounded in some sort of reality where people donate their bodies to science and odd specimens are put on display for ogling by patrons willing to pay, as Desiree pointed out, to see the car crashes of humanity in order to feel a little less odd themselves. 
But this? Dandy Mott mowing down nearly 20 freaks and carnies with only Amazon Eve able to attempt to fight back against him? Nope. I want my ticket money refunded. That was frivolous and gratuitous death of characters we've spent a season coming to love. That they found peace in the afterlife was cheapened by Elsa's presence there.
Elsa Mars, however, traded misery for misery. Once upon a time she had a family, friends and, slowly, she sold those things, auctioned them off on the altar of her dreams. 
There was no turning back for Elsa once she killed Ethel, and her soul was already black long before then. Having Edward Mordrake reject her spirit on the grounds that her death was a suicide was one thing, but to give her a happily ever after with the family of freaks she sold to their deaths so that she could chase fame and fortune and the bright lights of television?
Was this really the best they could do? It was so...lazy.
"Hey, we don't know how to wrap up these stories and write endings for all these characters." 
"Meh. Just shoot 'em. Dandy can do it. With a little gold pistol he never has to reload. We'll give 'em a happy ending."
I imagine the above scenario is what had to have happened in the writer's room. And then they all went out for beer and peanuts or something. (Or moved on to the next project, more likely, as Ryan Murphy is wont to do. Start one project, move on to another one while the first one falls completely to ish.)
At least Dandy finally died, even if it took the Tattler sisters completely freaking me out by marrying him first. His was the demise I hoped would come and it didn't disappoint.
For half a second, I'd forgotten about Bette and Dot's revelation that the freaks were their family and happiness could be found through hedonism and thought "these girls have lost their gourds." Dandy Mott issued that little gem of a line about stallions and their mares and I got the 'grossbumps' and started imagining how sick and twisted this was about to get. 
Still didn't recollect their devotion to the freaks. In fact, I didn't put it together until Dandy's vision started blurring.
Kudos, kids. You got me. All thanks to the shoddy storytelling we've witnessed this season. If only they'd thought it through to becoming heirs to Dandy's fortune before offing him.
Or, maybe they did. Maybe that's how the foursome were all able to afford comfortable, happy lives post-freakshow.
Desiree went on to marry Theo Huxtable​ the guy she met at the show and have two children with him. She seemed happy, which is all any of the freaks deserved. Including Jimmy and the Tattler sisters.
Every character Evan Peters plays in this series is one I hope will have a happy ending, so in that regard I wasn't disappointed. The Tattler sisters were easy to love, too, especially Dot. I'm a sucker for a glowing mom-to-be, so Dot Tattler's baby bump and happy life with Jimmy and her sister definitely warmed my cold, cold heart.
Overall, I can't say I'm sad I watched American Horror Story: Freak Show because I'm not at all. As with anything, I took the parts that I enjoyed and those are what I'll remember. As for the rest of it? Well, the show must go on, right?
I guess Ryan Murphy left me wanting more after all.
What did you think of "Curtain Call"? Were you disappointed with Elsa's end or was it fitting for the character? What about Jimmy and Dot Tattler?
Remember that you can watch American Horror Story online right here at TV Fanatic!
Miranda Wicker is a Staff Writer for TV Fanatic. Follow her on Twitter.