Chasing Life Season 1 Episode 12 Review: Next April
Paul Dailly at . Updated at .
Did Leo live another day?
Chasing Life Season 1 Episode 12 featured a lot of changes for April, most of them for the better. Oh and Leo lives!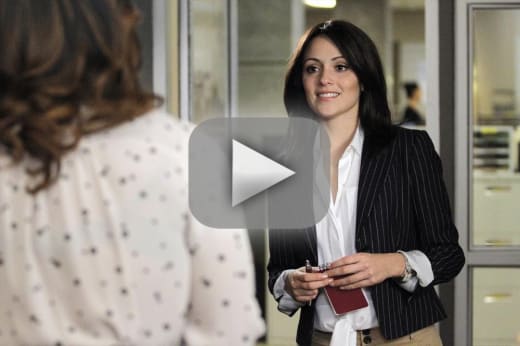 For a start, April's in remission. Let's just let that sink in for a moment. April Carver is officially on the road to recovery y'all! There is still a high risk that her cancer will return. We can only hope that Natalie is a good match as her bone marrow donor. Yes, Natalie returned, but if it saves April, she can stick around. 
It's understandable that Natalie resents April and Brenna, because they got to spend more time with their father, but what Natalie neglects to take into account is that her sisters never knew of her existence until recently and it isn't their fault. Could her helping April result in a relationship between the siblings? Quite possibly, but only if she changes her approach to it all. Olivia tried to be as nice as she could be and also understood that they would do the same if the roles were reversed.
So...Leo is alive. Words can't express our happiness that he survived his surgery. He still seemed pretty expendable until he woke up in the closing minutes of the episode. We don't know whether April and Leo will pursue a relationship. I'm not entirely sure he wants to given the preview for Chasing Life Season 1 Episode 13. It all seems so uncertain. It's so damn obvious these two share a lot of chemistry, so why can't it just be clear sailing for them? It's not like Dominic is much of an issue anymore.
April: Leo.
Leo: Who is Leo?...kidding.
April: So... we're alive.
Leo: Now what?
Heck, he's pretty much moved on. That scene in the elevator was so freaking awkward. I still don't like Dominic and that whole scene on the stairs with April cemented this feeling. Sure, she cheated on him, but he has to understand that her mind wasn't where it should be. He was pretty much MIA from her when she needed him. The way he said he couldn't tell her because she had cancer was the worst way to approach it. Poor April is trying to put the whole cancer experience behind her and wants to be treated like a normal 24 year old.
Things also changed at April's workplace. The new boss obviously has too much on his plate and should have time to have his staff walk in his office and see him. If he doesn't then what's the point of his office being there? It's obvious he doesn't have the paper's best interests at heart and wants to change it into something it's not. I still think Raquel was looking out for April when she convinced Aaron to scrap the story.
Thank you so much for saving my ass.
Elsewhere Brenna's heart was broken as Greer decided to put her parents before her. I hope the two of them can find a way to make it work as they are one of the better couples on the show. Greer helped Brenna discover who she is and that's why Brenna is finding it difficult to let her go. I don't quite understand what Brenna was hoping to achieve by breaking into the house. It seemed rather out of character. Thankfully Greer's dad didn't press any charges, though I'm sure her mother would have loved nothing more than Brenna being carted away in handcuffs.
Speaking of relationships, Sara and George are a nice pairing, though Emma doesn't seem to think so. The next big hurdle they face is telling the girls. I don't know how that will go down, but the girls tend to be quite mature. Obviously it is a bit awkward; their uncle will become their step dad.
"Next April" had just enough drama and comedy to make it a solid opener to the second half of Chasing Life Season 1. The show has gone from strength to strength and if this episode is a symbol of what we've to expect, we will get more great episodes.
Other bits of note:
Emma made us Laugh out loud several times. The funniest part was when she played the prank on Sara, telling her she sent the rude email to Olivia. Our jaws dropped to the floor, until she confessed she was joking.
Does anyone think Greer looks like a young version of Rebekah from The Originals?
How crazy was it to see Brenna with her ex that she cheated on...they can actually be friends?
Danny has gotten funny. The majority of his one liners fell flat last summer, but he was hilarious tonight.
Doctor Hamburg was a really good doctor. It was really nice when she used the champagne to give April courage to take her wig off at the fundraiser.
What did you think? Will Natalie be a match? Will Brenna and Greer reconcile? Hit the comments below!
Remember you can watch Chasing Life online right here on TV Fanatic! Catch up with the drama now!
Paul Dailly is the Associate Editor for TV Fanatic. Follow him on Twitter.