Chicago PD Season 2 Episode 11 Review: We Don't Work Together Anymore
Paul Dailly at . Updated at .
Is Linstead really a go?
Chicago PD Season 2 Episode 11 found Lindsay on her first day at the joint task force. It sure was a good change of scenery, but will we be able to get used to it long term? Probably.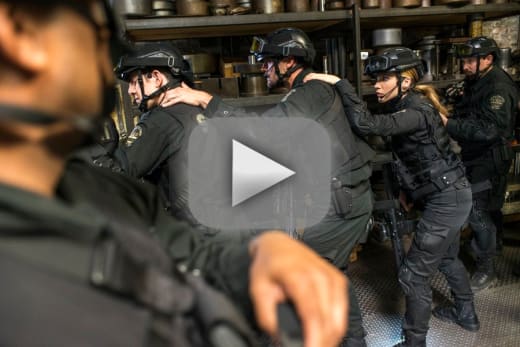 Her boss is an ass. He doesn't like being told what to do. I'm sure I wasn't the only one happy that he wasn't right about the deal. Voight's methods may be unethical, but he gets results, which is more than can be said for Lang. If Lindsay didn't have her old team in her back pocket, Kylie would have probably died.
Kylie was trying get out and away from it all. The case became a bit too personal for Lindsay when she really started mothering Kylie's daughter and brother. Obviously it's nice to show compassion, but it was a bit much. I felt bad for her after she'd told Kylie she would get a payment out of helping the DEA. It's very understandable that it would take a little time to pay out, but that's if she gets it. Lang was all for getting her involved, but when it came to returning the favor, he was out there like a shot.
Mendoza was a smart guy. The way they were transporting the money was genius. If it wasn't for Cassie he would have gotten away with it. The scene with Halstead questioning her about her part time job and how she can afford the fancy things made us chuckle. She was trash.
Cassie: Having nice things isn't a crime.
Halstead: No, but buying things with drug money is.
Elsewhere, Burgess returned to work very fast! She was initially annoyed at being put on the front desk by Platt, but came to love giving everyone the cars they wanted. She relished playing god. She didn't seem as unsure about her new position as she was in Chicago PD Season 2 Episode 10, did she? Well, after her conversation with Roman in which he apologized, she spoke to Voight and declined the upward role. She's staying put on the beat!
Voight was very understanding of her decision, but how will Ruzek take the news when he finds out? He probably won't be the happiest!
Platt: You sure you're ready to be back so quick?
Burgess: Yeah, I'm fine.
Speaking of Platt, as always she stole all of the scenes with her witty comments. The woman also has a good heart – Lucky Mouch! It was nice of her to give Roman the pep talk about Burgess being fine. He's understandably cut up about what happened to her and the role he played. Did anyone else LOVE Platt being out in the field? More please.
Looks like you'll need a new partner since Burgess is going upstairs. You go through them like cheap drawers.

Platt
Speaking of Linstead: It happened! NBC has been teasing us for the past week with the endless promos. When Halstead asked Lindsay earlier in the hour about if they can be a thing now that she's left the intelligence unit, stupid Lang interupted the scene. Not cool.
"We Don't Work Together Anymore" was another solid installment. The different dynamic with Lindsay working for the DEA was really good. This storyline will probably conclude soon as she is already sick of her boss, so enjoy it while you can!
Other bits from the episode:
The old woman appearing with the shotgun in the shop was hilarious.
Did anyone else gasp when Lang walked in on Voight hitting the guy?
Bianca Lawson is everywhere these days!
Remember you can watch Chicago PD online right here on TV Fanatic! Get investigating now!
What did you think of the episode? How do you feel about Linstead finally happening? What are your thoughts on burgess declining the job? Sound off below!
Paul Dailly is the Associate Editor for TV Fanatic. Follow him on Twitter.