Jane the Virgin Season 1 Episode 10 Review: Chapter 10

Mary Kate Venedam at . Updated at .
Jane is back! 
After an exciting hiatus thanks to a Golden Globe win for star, Gina Rodriguez, Jane the Virgin Season 1 Episode 10 returned almost exactly where it left off – Jane's abuela recovering from her fall and Michael found more clues that led to Sin Rostro.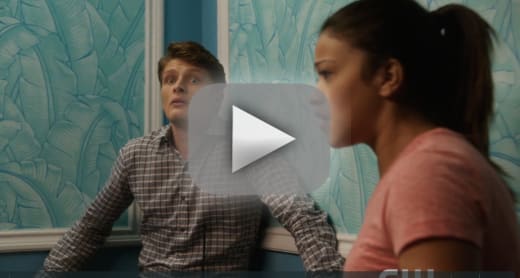 The flashback that played sporadically throughout the episode of young Jane learning to pray from her abuela was nice knowing what was going on with Alba. Even when it seemed it was about Jane's relationship with Alba, it showed just how important Alba is to both Xo and Jane. 
The few flashbacks that have occurred always seemed, at first, to have little connection with the plot, but in the end there was always a sweet moment to wrap everything up. I don't know why I doubted the flashback's importance. 
But, not to worry, Rogelio was to the rescue in comforting Xo. He wasn't as much of a comic relief, though he did a good job at being there for Xo, but he had his moments. For instance, the Swag bag and a Gloria Estefan name drop. Looking forward to more great Rogelio moments. 
I was glad Alba pulled through. I had little doubt she would not make it. But, I've seen a major death in a show's first season before and it looks that still may be something to worry about. More on that later. 
Elsewhere, the Sin Rostro case got more interesting. There's even a legitimate suspect, one that isn't Michael accusing his ex-fiance's boyfriend. I'm glad this is moving along and, while I said after Jane the Virgin Season 1 Episode 8 Sin Rostro would be Lachlan or Petra, I had an inkling about Rafael's father when we saw him at the beginning.  
And, sure, Rose wanted information about her husband, but tricking his daughter into bed for it is not what I would call the best technique. There will certainly be a rude awakening once Luisa escapes from the mental institution, though I think the Sin Rostro reveal may get in the way of that. That is, if Rafael's dad is Sin Rostro.
The love triangle got a tad more awkward, too, for Jane, Michael and Rafael. First, there was the continuous pestering of Michael accusing Rafael. Then, the unfortunate elevator incident for the former love-birds. As much as I love Jane and Rafael, Michael's and Jane's moment reminded me of how sweet Michael is and what a good couple they were.
Of course, just as Michael comforted Jane in her time of need, the elevator opened so Rafael could see their hug. Awkward. 
With the show's return, it also meant more wonderful commentary from the not seen, but hilariously heard, narrator. There was a lot he added – from a compromising position for Michael and Nadine, to the list of things Petra had done to Rafael since we have met her – the narrator was on a roll.
When we last left Michael and Nadine, they were in a exciting position. Not that one, you perv!

Narrator
Now, that ending. 
While it was already known how Michael feels about Jane, it was what the narrator teased after Michael told Xo about his feelings that was surprising. He revealed that Michael would always believe he and Jane were soul mates, that is, until his last breath. Based on that revelation, it seems there may not be such a happy ending for our trusty detective.
Do you think Rafael's father is the infamous Sin Rostro? Are you happy that Alba made it through her ordeal? What do you think the ending meant? 
If you want to catch up on what has happened this season, make sure you watch Jane the Virgin online via TV Fanatic.
Mary Kate Venedam is a staff writer for TV Fanatic. Follow her on Twitter and on Google+.