On The Big Bang Theory Season 8 Episode 13, Sheldon struggles with his new research on dark matter.
Naturally, he's worried that he made a mistake in switching fields of research. I'm glad this is something we are continuing see for Sheldon, since the changes in his career are actually very dramatic.
That would cause emotional turmoil for anyone, so it's good we get a reminder of what has happened. We even see him sulk a little, but that doesn't last.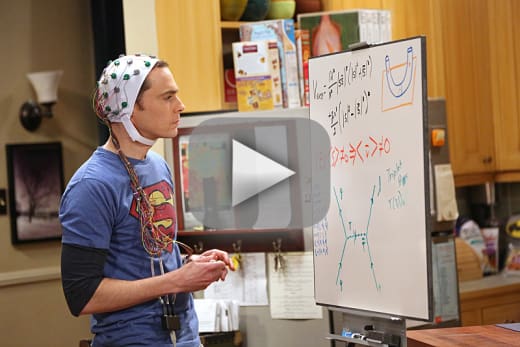 It's Penny who offers Sheldon some advice that helps. He hears her making awful noises in her apartment and checks on her out of concern. She's exercising, which she tells him she hates. When he asks why, she says hating it makes her work harder. I always find it interesting when Penny is able to help Sheldon in profound ways, and vice versa.
The two of them are so different, but Penny has probably had more of an influence over Sheldon than most of the other characters.
It's Penny's exercise that inspires Sheldon to try a new tactic. The plan is one that makes sense but, of course, Sheldon takes it way too far. With the help of Amy, Sheldon realizes that a little anxiety will help him be productive. He then seeks out ways to cause anxiety, including asking his friends to disagree with him about everything.
And, guess what? They jump on that bandwagon immediately (can you blame them?), finding their own humor in being able to question Sheldon.
My favorite moment is when Sheldon arrives to Penny's for girl talk, thinking that will be helpful for his anxiety levels. What he expects girl talk to be is pretty darn ridiculous, but Penny sets him straight with one of my favorite lines:
Penny: Sheldon, we are just people. we talk about the same things you guys talk about.
Sheldon: You talk about if werewolves can swim?
Of course, the girls don't usually talk about werewolves, but they get started on a conversation about whether or not werewolves could swim that any of the guys would be able to appreciate. That's also a chance for Sheldon to learn something new, which is so often what this show is about – his growth and development as a person.
There's also Sheldon's growing relationship with Amy, which this whole anxiety experiment starts to threaten. Amy tries to convince Sheldon to separate himself from work to spend time with her, but he doesn't understand why that's something he should do. So she promptly kicks him out; and good for her! She may fall at his feet with love and affection, but Amy still knows when she needs to stand her ground.
As his anxiety and lack of sleep starts to spin out of control, its Penny and Leonard who take care of Sheldon. They get him to bed, and they even sing the "Soft Kitty" song in unison to lull him to sleep – just like a couple of parents! Hmmm...
What did you think of this episode, The Big Bang Theory Fanatics? Share your thoughts in the comments below!
Need to catch up on past episodes? Remember that you can always watch The Big Bang Theory online via TV Fanatic!
Ashley Bissette Sumerel was a staff writer for TV Fanatic. She retired in September 2017. Follow her on Twitter and on Google+.