The Goldbergs Season 2 Episode 10 Review: DannyDonnieJoeJonJordan

Samantha McAllister at . Updated at .
The only thing you need to know about The Goldbergs Season 2 Episode 10 is New Kid on the Block were featured.
Seriously! That is all you need to know.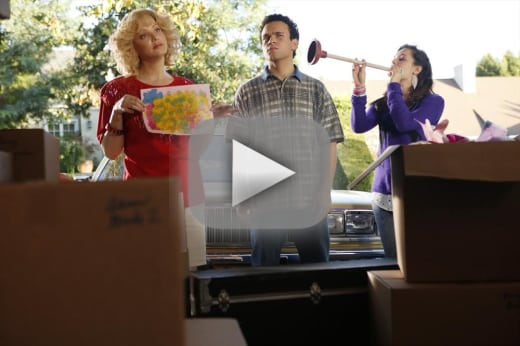 Beverly's obsession with her kids just gets crazier and crazier. The whole scrapbooking is something I would expect; though seeing all of those boxes piled on top of each other of the kids projects was way over the top. Poor Murray almost being "killed" from the boxes – though I would venture to say Beverly would be more upset about the boxes being destroyed.
We are drowning in our children's art projects. You've literally kept every drawing, every doodle, every macaroni necklace they have ever made.

Murray
Erica being a closet New Kids on the Block fan doesn't come as a surprise. The fact she actually recorded a video of her singing a song to Johnny was hilarious! See kids, video taping yourself singing and/or professing love to a celebrity will always come back to bite you on the ass.
Adam and Barry are honestly so evil – yet in a way that is enjoyable to watch. Having them torture Erica with her love of New Kids on the Block was perfect revenge for their years of torment; the fact that they went further and put posters in her room and had a viewing part of her video was so calculating. Now see boys if you would only put that much thought in your schoolwork you'd be getting perfect grades.
Now we all knew this New Kids torture was going to eventually takes its toll on Barry and Adam. The guys turning into hardcore New Kids fans was the perfect revenge for Erica. Now the guys going even further and fighting over who the better guy in New Kids is, was icing on the cake.
Adam: You know what else would really rub her nose in it? We do a shot for shot remake of their music video!
Barry: Yes! I'm going to go cut off the sleeves of my jean jacket and you go gather up some leather vests and than we will really stick it to her!
It was comical watching Beverly going through the different projects the kids have done and Murray not having any sentimental feeling towards the things she wanted to keep. Beverly is such a sentimental woman; I love her for it! Granted, if looks could kill, Murray and Pop's would be dead thanks to that death glare Bev was giving.
I love when they put Pop's and Murray together. Here we have two clueless men and they are trying to come up with faux art projects; you have to give them credit for trying to fix the mistake Murray made. Granted they really didn't need to go through the trouble – pretty sure we all knew Beverly had something up her sleeve.
See, I had all these pieces of my kids in these boxes and someone tried to take them away from me. We can't have that, can we Gabe?

Beverly
I cannot even describe the joy I got watching the New Kids video Adam and Barry made. Though I do think the guys show have given Erica a break; she only did the same thing they did to her. Erica made a valid point too; she is not this perfect child they think she is and she has gone through her own fair share of problems.
The episode was tied up perfectly with Erica getting tickets for them to go to the New Kids concert; though the best part of the night belongs to the final real video from Adam Goldberg's collection. This man is much braver then I am!
What did you think of tonight's episode? 
You know you want to see this episode again! Go watch The Goldbergs online now via TV Fanatic!
Samantha McAllister was a staff writer for TV Fanatic. She retired in November 2018.