After a very successful first season for The Goldbergs fans were itching to see how the second season would shape up.
Thankfully the second season is shaping up to be another solid season. Barry still has dreams of becoming a big rap star; plus we met his group of friends who refer to themselves as 'JTP.' Adam is still the pop culture nerd that we have come to love.
Beverly and Murray are still the parents that we would gladly invite over for dinner. Meanwhile Pops and Erica are still the voice of reason. Lets break down the wonderful happenings of The Goldbergs Season 2!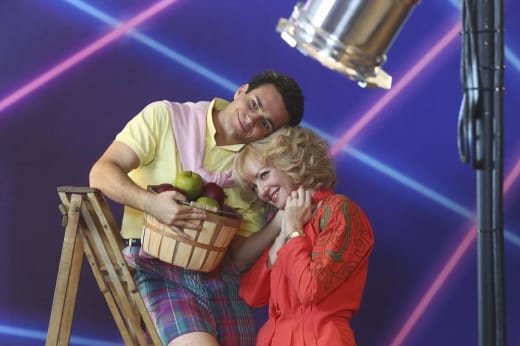 Best Episode: The Goldbergs Season 2 Episode 3: The Facts of Life. It is truly hard picking the best episode when all the episodes have been pretty fantastic, but The Facts of Life wins me over for the heartwarming moment between Murray and Beverly. We cannot deny that while this show is about Adam, the heart of the show belongs to Murray and Beverly. When they finally renewed their vows in front of the people they love most, it made me tear up. We also can't forget this introduced us to Barry and Adam trying to start a hair band by only singing one song. Thankfully Lainey and Erica were there to save the day and provide the right vocals for the vow renewal. 
Worst Episode: The Goldbergs Season 2 Episode 6: Big Baby Ball. While we all love our favorite smother Beverly and understand her reasoning behind the things that she does, getting Adam's coach fired was a little excessive. Of course, even The Goldbergs worst episode is still strong and had some great moments between Erica and Barry playing Trivial Pursuit. 
Best Character: Beverly! How could you not love Beverly Goldberg and her array of stylish sweaters? No matter how much of a smother Beverly can be, we can't help but absolutely love this woman who has a deep love for her family. Wendi McLendon-Covey brings so much to the character and she is a joy to watch every single week. You do for family!
Worst Character: Uncle Marvin. Sorry I cannot hate on any of the other Goldberg family members. Marvin is that ridiculous character that has never grown up and makes some of the worst life decisions. Granted we all know that this is what the writers want us to feel when we see poor Marvin so kudos to them for getting it right. 
80's Flashback That Needs To Happen: We already know that they are paying homage to Ferris Bueller's Day Off, but can we have one episode that pays tribute to National Lampoon's Vacation? How great would it be to see The Goldbergs go on a good old fashion road trip? We can only imagine how many sweaters Beverly would pack for the trip. 
Character MVP: Murray of course! My feelings about Murray are not a secret – I love this man to death and love the way he is written. It never fails that Murray may refer to his kids as morons, but we all know that he loves them and will do anything for them. Case in point; when Murray lays in on his father for calling Adam a name – only Murray is allowed to insult his children!
Hopes For 2015: We need more Pops and Erica with their words of wisdom! It cracks me up that the two sane people on this show are also just as crazy as the other characters. Erica is an intelligent girl who has learned from most of her mistakes yet she still continues to make more mistakes. Meanwhile, Pops is probably one of the smoothest characters on TV; he is a true ladies man that is filled with wisdom, but still provides a great amount of comic relief. 
Overall Grade: B+
Your turn to tell me what you think! You haven't caught up on The Goldbergs yet? Well get caught up and go watch The Goldbergs online and than come back and let me know what you think.
What Midseason Grade Would You Give The Goldbergs Season 2?
Samantha McAllister was a staff writer for TV Fanatic. She retired in November 2018.