Classic fairy tales coming to life? Eve Baird as a princess? Count me in. The Librarians Season 1 Episode 6 is my favorite yet.
I'm glad we continue to see Jacob's inability to trust Cassandra and how this bothers her. A lot of shows would have let that go by now, but I think this is important for their story. There is also a bit of girl talk between Eve and Cassandra, which is nice to see. Of course, it doesn't last long, what with each of them becoming part of a fairy tale and all.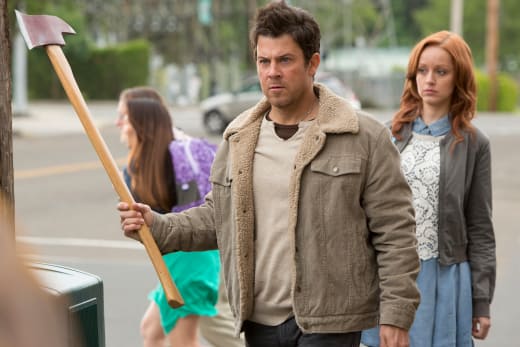 The show is also working with a running joke about Ezekiel. Nothing affects this guy, because he is always himself. Is there a lesson here, somehow? In The Librarians Season 1 Episode 5, he's completely unaffected by the Apple of Discord. Here, he is the only one the fairy tale works for instead of against. He's also the only one who doesn't become a part of the story.
It's also just tons of fun to see how each of the Librarians are affected by various magical entities. Somehow, Jacob Stone always becomes a bit tougher and more masculine, while Eve becomes softer and more feminine. With Cassandra, you never know. One week, she's brilliantly evil, and another week, she's the archetypal fairy tale prince.
This, by the way, I completely adore. It could easily be Ezekiel in that position, but instead, we're going with a woman as the prince. Women everywhere begin swooning over Cassandra, who eventually becomes a confident hero and leader. She loves the attention from the ladies and has them fetch her drinks and french fries. Her voice deepens and she becomes more serious. When trouble finds them, she leads them all and makes a powerful speech, while Jacob stands in front, guarding her. Props to Lindy Booth, who is showing a wide range as an actress in a very short span of time.
Eve becomes pretty useless as a princess who bats her eyes and whose hair grows throughout the hour. It reminds me a bit of Buffy the Vampire Slayer when Buffy wore the princess dress on Halloween and lost her tough girl abilities.
The details of the fairy tales make "And the Fables of Doom" that much more fantastic. This is something the show continues to do well. We're not bringing the Disney versions of fairy tales back to life. We're bringing back the original ones with the blood and the not-so-happy endings. The details make it special and add humor.
Of course the mayor is jogging around naked for "The Emperors New Clothes." And, of course the giant wolf is wearing a pink night cap. It's all very well thought out. My favorite part, though, has to be when Jacob has a sudden instinct for cutting open that giant wolf, and then pulls out a woman like it's just another day at the office.
The ending is a bit emotional and completely perfect. The dying girl has the opportunity to save them all by telling her version of a happy ending, which includes Eve becoming a "ninja princess" and Jacob becoming a robot. Instead of the wolf being killed, his sentence is to eat green Jello forever. Even better, the girl is healed, and reunited with her father just as she should be. Hey, there's the happily-ever-after!
What did you think, The Librarians Fanatics? Be sure to leave your thoughts in the comments below!
Need to catch up on this season so far? Don't forget that you can always watch The Librarians online via TV Fanatic!
Ashley Bissette Sumerel was a staff writer for TV Fanatic. She retired in September 2017. Follow her on Twitter and on Google+.