Bill Peterson was a determined man. In The Mentalist Season 7 Episode 9 he went down to Mexico and dug a bullet out of the skull of a dead body in order to have his revenge against Agent Dennis Abbott.
Lucky for Abbott he had Patrick Jane on his side.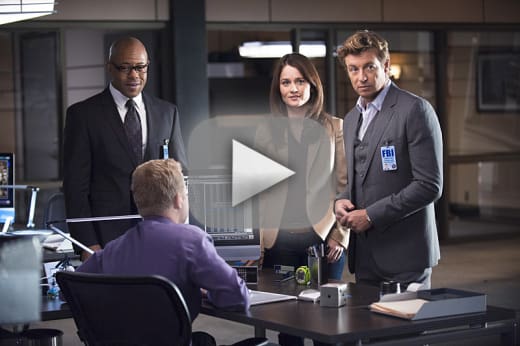 Abbott told his wife that Jane was one of the most clever men he'd ever met and that he trusted him with his life. Good call on his part. With the help of Lisbon, Cho, Wiley and Vega, Jane orchestrated a plan to take Peterson down. He even called in a couple of his old friends from his carnie days to help. Not to mention using Peterson's own cat against him. That's either cold or downright brilliant.
Abbott thought about calling the whole plan off considering the risk his team was taking with their own careers but they were having none of that. Jane, Lisbon and the rest of the team were determine to help save their boss and friend. In the end, Cho got a promotion and everyone danced.
You won't want to miss a minute of this final season. You can watch The Mentalist online  any time here at TV Fanatic. 
C. Orlando is a TV Fanatic Staff Writer. Follow her on Twitter.