The Real Housewives of Beverly Hills Season 5 Episode 11 Review: It's Just a Scratch

Christine Orlando at . Updated at .
Kyle Richards and Brandi Glanville continued to brawl in Eileen Davidson's driveway on The Real Housewives of Beverly Hills Season 5 Episode 11 but it least it gave Eileen the opportunity to deliver one of the best lines of the night. We recap all the drama in our +/- review.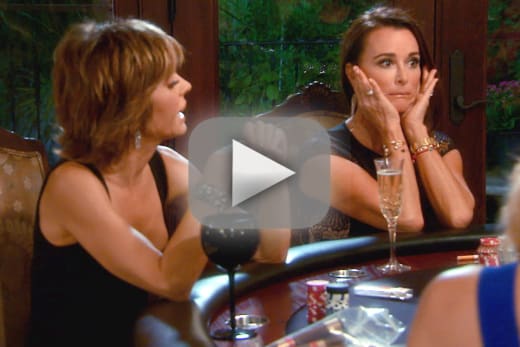 To be honest the "brawl" wasn't much more than a shoving match. Minus 15. To be honest, the biggest casualty was Kim's slice of pizza which hit the pavement during the scuffle. The funny part was that Kim seemed more concerned about it than her teary eyed sister or her friend. 
Of course Brandi made herself the center of attention. Suddenly she is Kim's biggest supporter and she's bashing Kyle for being a bad sister. Minus 22. This is starting to remind me of the way she turned on Lisa Vanderpump last season. Hmm...
Then Brandi gets all whiny about a "gash" to her arm that she got when Kyle grabbed her. Since we couldn't see it on screen (and you know if there was even the hint of blood Bravo would have given us a close up) it's not difficult to assume that Brandi was blowing her injury all out of proportion just to get attention. Minus 25.
And if we needed any further proof there was Eileen Davidson's The Real Housewives of Beverly Hills quote of the night...
How about a little Neosporin? Get a grip.

Eileen Davidson
That was awesome. Eileen has been great this season as one of the few voices of reason amongst the Housewives drama...even when she's getting drinks thrown at her. Plus 37.
Later, we found out that Kim was taken to the hospital the next day and little is known other than she was doubled over in pain and they're running tests. Kyle's obviously upset and the last person she wants to see is Brandi. 
That's too bad because they both end up at Lisa Rinna's cancer research fundraiser yet they somehow managed to avoid one another. Perhaps that's because Brandi was getting lectured at every turn.
First Yolanda was in her mothering mood as she tried to steer Brandi towards cutting down on the alcohol at parties. Did she really think that would work? In Brandi's mind, she doesn't have a problem with drinking, it's everyone else that has a problem with her drinking. Minus 21.
Then Eileen took her turn as she told Brandi how she felt about her snarky comments concerning her home decor and her cursing like a sailor with Eileen's son right upstairs. 
Did Brandi apologize? Yes. Did she actually give a damn? Hell no. Minus 23. In Brandi Glanville's world, her language, drinking and behavior are everyone else's problem, not hers.
Episode total = -69!  Season total = -346!
You can watch The Real Housewives of Beverly Hills online any time here at TV Fanatic. 
C. Orlando is a TV Fanatic Staff Writer. Follow her on Twitter.