The Vampire Diaries Season 6 Episode 12 Review: Prayer for the Dying
Leigh Raines at . Updated at .
Last week's episode of The Vampire Diaries ended up with a wise message: Don't play scientist without all of the information. 
The Vampire Diaries Season 6 Episode 12 picked up right where we left off with Colin tracking down Caroline after her vampire blood took a sour turn in his system.
Only the warning came too late; Caroline had already fed her blood to Liz.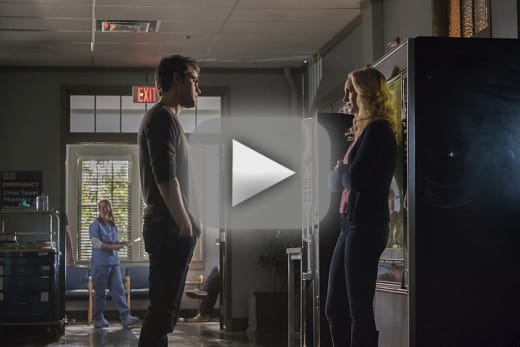 As Jo's scans showed, the blood was actually making Colin worse. The tumors were growing faster. Translation: Liz was screwed. And, yes, Dr. Damon, that's why you should care!
We all known Damon can be a MAJOR douche. It's a fact of life on TVD, like saying the grass is green. But scolding Caroline about trying to help her mother and failing really grinds my gears. Dude, do you think ANYONE felt worse about it than Caroline? 
I was trying to fix something that I had no business trying to fix. It's like textbook definition of a control freak from hell.

Caroline
She knew she was wrong. At least Damon and Elena tried to take things into their hands as far as curing Liz and ridding her body of vampire blood and magic. Granted, their idea of helping involved releasing Kai so...their good deed was kind of a fail.
Why do people on this show (and, really, all shows) consistently try and trust somebody who has betrayed them already, many times? Kai is a sociopath. What made Damon think Kai was really going to help?
Just get on with it Kai. Listening to you talk makes me want to die.

Liz [to Kai]
I don't even blame you Liz! As a viewer, he's an entertaining villain, but I'm sure if I lived in Mystic Falls I'd want to be doing the invisible head snap to him. 
My only real question here was how did Liz come back to life? Did she still have vampire blood in her system? I thought Kai removed it, just failed to warn them how it would negatively affect her heart. Maybe I'm fuzzy on the details here.
The one thing I was very clear on during this episode was that Luke was going to sacrifice himself for Liv. It was so obvious the second Papa Parker came to town. It was always a glaring possibility.
Personally, I thought he'd let Kai absorb his magic so that during his merge with Liv, Liv would win. But merging with Kai worked, too, obviously. Pretty sure we all saw that coming, especially since Nina Dobrev is still posting pics with Kai on Instagram.
In the end, Damon and Elena realized that life is too short to keep going with the lost memory storyline.
I don't care. Life's too short. Immortal or not, I don't wanna waste another minute.

Elena
Liz told Stefan, he's have to be there for Caroline and Caroline heard. Luke is dead and Kai has vanished. On the upswing, it looks like we are finally circling back to Bonnie next week!!!
Don't forget you can watch The Vampire Diaries online at anytime to relive the time TVD attempted to be Grey's Anatomy.
Sound off below with your take on this installment and prepare for The Vampire Diaries Season 6 Episode 13, "The Day I Tried to Live," to air on Thursday, February 5.