Chasing Life Season 1 Episode 17 Review: Model Behavior
Paul Dailly at . Updated at .
Is April's life taking a turn for the worse?
If we're to believe the events of Chasing Life Season 1 Episode 17, then it certainly seems that way.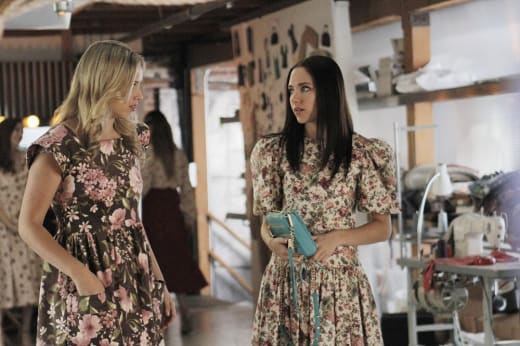 The nose bleed was certainly a shocking way to conclude the episode, but does it really spell cancer? I'm not so sure. April was very stressed about the interview and many other things in her life. She knew she was in hot water at work and needed to own the interview or she could potentially be unemployed.
It was evident from the opening scene that April was in for a rough time. The dude who refused to sell her the coffee wasn't the nicest. In his line of work, he must come up against many people he hates, but to not serve a regular customer over a story is a bit much.
If April does appear to have cancer it sure looks like Dom will be the one holding her hand this time round. Since Scott Michael Foster booked a pilot over at ABC, there's a good chance he will stepping out on his role of Leo. Considering both shows are made by ABC studios, I wouldn't rule out some guest appearances, but I won't hold my breath.
April felt comfortable enough letting Dom know that she thinks she has cancer again. I don't like that the writers are essentially shoving these two characters back together. All you have to do is look at the show's Facebook page. For every Dapril fan, there are like a hundred Lapril fans. Dom doesn't bring much to the story and he burnt his bridges with fans back when he was nowhere to be seen when April was initially diagnosed.
Either way, we'll need to wait until Chasing Life Season 1 Episode 18 to know for sure if she does have cancer.
April has some tough decisions to make, but choosing between the two guys in her life shouldn't be tough at all. It wouldn't be a surprise if she chose neither at this point. Leo hasn't exactly been credible so far and he lied to her about the drugs on Chasing Life Season 1 Episode 16.
One other thing is that April was so worried about the cancer returning that she never paused to take a moment to celebrate that Richie had been arrested for a DUI. This development would have confirmed that April's story was actually correct.
Brenna's relationship with Greer hit another snag as Greer realized that being off the drugs her parents had her on was making her feel on edge. It's very natural for her body to struggle to cope if she's been taking them for so long. This really drives home the fact that she was addicted to them.
Greer obviously thought she could just continue her relationship with Brenna, but Brenna saw through it and called her out. It was nice to see that Brenna made a mature decision and decided that she was going to be there for Greer as a friend. Although Greer won't be happy, she will realize it's for the best down the line.
While the younger generations of the Carver women's love lives were flat lining, Sara and Emma both got boyfriends. Emma's jokes were on point this evening. Rebecca Schull is a fantastic actress and she is comedy gold. The scene in which she told Sara she and her boyfriend were going to see Miley Cyrus was hilarious. More please.
Sara: Where are you two going?
Emma: We're going to the Miley Cyrus concert.
Sara: Really?
Sara: No, but I figured you'd believe anything.
Other tidbits from the episode:
Beth's new boss seems like a crazy individual. It looks like she'll have Beth on her toes for quite some time.
Was anyone else really shocked that Aaron was fired? The guy was probably the worst boss ever, but I expected him to be a pain in April's ass for quite some time.
It was so freaking obvious Greer was going to damage the dress. I called it the moment she got asked to model it.
Raquel returned! The character has been so underused recently. She should be one of the leads.
Remember you can watch Chasing Life online right here on TV Fanatic. Get caught up on drama now.
What did you think of the episode? Does April have cancer? Which couple on the show will last the longest? Chat with me in the comments about the developments.
Paul Dailly is the Associate Editor for TV Fanatic. Follow him on Twitter.