Fresh Off the Boat Season 1 Episode 6 Review: Fajita Man

Orrin Konheim at . Updated at .
This show keeps rolling along and building momentum with each installment.
On Fresh Off the Boat Season 1 Episode 6, Eddie and Louis have the more sentimental plot line while Jessica gets to turn the zaniness factor up to 11.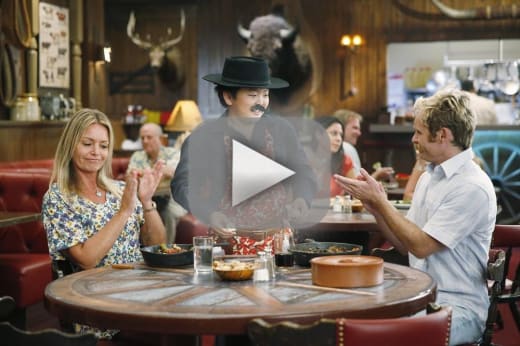 At this point, we can basically expect the plots of Louis and Eddie to be constant: Eddie wants to fit in and Louis wants to boost his restaurant. Jessica is still a wildcard of sorts: Her struggle of the week has included a sibling rivalry, a complicated friendship with the neighborhood pariah, and a vendetta against the school system for taking it too easy on her boys.
This week she needs a job and with the TGIF-style burden (as I say in these reviews, the show is very much in the mold of a '90s TV series) of having to learn a lesson at the end of the episode transferred to Eddie and Louis, she can be free to just be off-the-wall 
Her initial attempt to get a job by fast-talking her way into a furniture store salesman position is masterfully written on the dialogue front and perfectly in character.
Furniture store clerk: Good afternoon. Can I help you?
Jessica: Jessica Huang (shakes his hand). Seven years managing #1 furniture store unlimited in Washington DC
Clerk: Um, Ok, are you looking for anything in particular?
Yes, $18.50 an hour and I need afternoons off to help my boys with their school work, oh and on Thursdays I need off to do my mother-in-law's nails. We both hate it but there is nothing we can do about it now (cut to Grandma Huang and Jessica)
Jessica: Pretty color (dryly)
Grandma Huang: Very (equally dryly)
Clerk: Um, I think there's been some sort of mistake. We're not hiring.
Jessica: But you put this ad in the paper
Clerk: It's an ad for 25% off mattresses
Jessica: Exactly! 25% on the highest margin item in the store. You obviously need my help.
We then see Jessica try to continue her job by sitting in on open houses. This is a premise that's fresh and both scenes here are executed with great comedic timing.
One of the guest stars of this episode, Arden Myrin, is an old sitcom pro who's guest-starred on nearly everything and certainly bought a lot to her scene as the female real estate agent in the yellow dress. I, for one, wouldn't mind seeing more of her, now that Jessica's been hired.
The comic timing here is similar to Nahnatchka Khan's other series, Don't Trust the B---,  but this show has the potential to be better because the  the characters are more grounded with the more wholesome family feel that is generally represented in the relationship between Eddie and his parents.
This isn't to take away from Don't Trust the B---'s sheer uniqueness, but this show definitely has something to offer. When comparing the two shows, it also helps that the truly crazy characters are Mitch and the occasional guest star, like Brett Gelman's character in Fresh Off the Boat Season 1 Episode 5.
It's also worth noting that Evan, Emery, and Grandma Huang have had virtually nothing to do since the series started. If you're paying three extra people to be in the cast, you might as well give them something to do, right? Emory and Grandma have glimmers of a personality but I don't see anything with the younger brother. More development on all these guys please.
The excitement of a new video game is something I definitely remember growing up. The twist at the end that Eddie's classmates all find the games boring a couple days later was something that was sad, but true.
Technically, though, it generally took me about a month to get bored of a video game which is an important distinction, because I generally look back on the 90s as the last possible time period to grow up in before it was impossible not to be crippled by ADD. Or am I overly nostalgic?
I'm giving this episode a 4.6 because, while the Jessica plot was pretty flawless, the Eddie-Louis plot was good, but not extraordinary. Still, the show is getting there. What did you think of "Fajita Man"? Should Evan, Emery and Grandma be given more to do? Can you even tell Evan and Emery apart? Am I misremembering the 90s? Chime in the comments and watch Fresh Off the Boat online here at TV Fanatic. 
Get excited for Fresh Off the Boat Season 1 Episode 7, "Showdown at the Golden Saddle" airing on March 3rd and make sure you're here for a full review afterward!
Orrin Konheim was a staff writer for TV Fanatic. He retired in October 2020. Follow him on Twitter and his personal blog at Sophomore Critic.