Girlfriends' Guide to Divorce Season 1 Episode 11 Review: Rule #46

Carissa Pavlica at . Updated at .
Holidays with large groups are often difficult.
On Girlfriends' Guide to Divorce Season 1 Episode 11 we were reminded how much more difficult holidays can be when a couple is getting divorced, there are myriad friends and family involved and the best laid plans start to crumble.
It's really easy to pick sides and to want to "ship" your favorite couple, but what I like to remember is all writing starts somewhere and in the back of someone's mind these characters are living in some way. Let's give them the benefit of the doubt as we would real people. It makes the stakes that much higher.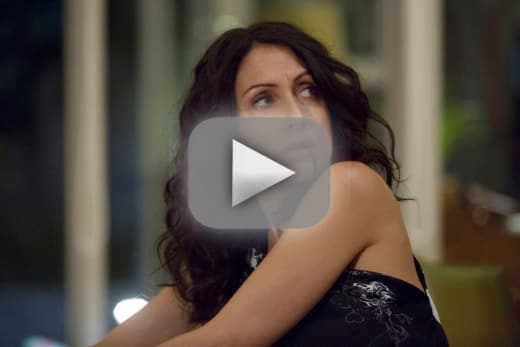 Abby's first adult Thanksgiving post breakup (Jake had the kids) with her new boyfriend of three weeks (or the night he first saw her, depending upon who you ask) turned into a free for all. There was a suspected ghost in the house thanks to a box of love letters from a man to his mistress found buried in the back yard, the kids were again on the guest list and a tantrum-riddled Charlie invited Jake while impersonating Abby. 
Things only got better from there! Jo, into whose shoes I would comfortably step at any given moment, decided swilling the Wild Turkey (hey, it's got turkey in the name) right from the bottle made a lot of sense.
With such an eclectic group of people at one table, there were guaranteed to be problems. All things considered, it went as good as could be expected.
Delia's father arrived in town, first lying outright about having prostate cancer in order to get some money from her, before ultimately revealing he had received a DUI and was facing jail time. This was the first time we were treated to some of her history and it was indeed eye opening.
Delia is the epitome of a self-made woman. Her father's politics landed him in hot water and when he was forced out of his country, she went with him. She grew up wearing Salvation Army clothes and she didn't have enough food, she lived without her mother (who later died) and she ever understood why. Even now, she still doesn't understand. The details are still misty, but her early life clearly led her to strive never to find herself in those circumstances again, never to feel as though she had no options.
There is a lot more to Delia and we will have Girlfriends' Guide to Divorce Season 2 to dig in and get to know her on a deeper level. 
When Delia's father brought up the politics of Thanksgiving at the table, that's when the buttons were pushed. Phoebe's "date" Marco already made it clear to her how he felt about Thanksgiving and he jumped in to defend the point. When Will wisely suggested God and politics make extremely poor dinner conversation, Jake got visibly and verbally agitated.
Was Jake's reaction rational? Not one lick. The two men who love Abby almost came to blows. Their arguments were as circular as the ones Will was trying so desperately to ward off. That's the nature of sex and love. Will, however, is a young man with a clear vision of what he wants and he seems to be in control.
When Jake took Abby outside and the two talked things over, they reiterated to each other they don't want to live together, but they want to die together. I'm not so sure they're completely on board with that statement, as good as it sounds. 
When the 'shippers' got angry at Jake for staying at the dinner, for speaking up and against Will, they forget about the things Abby and Jake so conveniently didn't – they were not only married for a long time, but that was his house. Even Abby had a hard time treating him like a guest in what she still considered somewhat his house. There's nothing about what they're going through that is easy and mistakes are going to be made. It's how they handle the mistakes and recover that counts.
Will knew what he was in for getting involved with Abby, but seeing it up close and personal gave him a little taste of how Abby feels when she wonders how he sees her. He couldn't help but question the history of life with Jake and where Will now fits in, just like Abby wonders why he wants to date an older, experienced woman. Now they have a stronger connection because of an awkward Thanksgiving.
Finally, Marco shared with Phoebe his past with addiction. When she kept telling him to relax and have a drink, it was really obvious to me what was happening, but Phoebe is so free. She still misses little clues. When he said the kiss she planted on him suddenly in Girlfriends' Guide to Divorce Season 1 Episode 10 reminded him that he could feel, it all fell together. It's the perfect reason to run in the other direction. He's not running anymore.
So a GG2D holiday disaster was very enlightening and brought a lot of people closer together. Even two poultry masters in the kitchen and an angry ghost didn't totally ruin the meal. There's a lot to talk about. What worked for you? Hit the comments! 
If you need another look, you can watch Girlfriends' Guide to Divorce online via TV Fanatic. 
Carissa Pavlica is the managing editor and a staff writer and critic for TV Fanatic. She's a member of the Critic's Choice Association, enjoys mentoring writers, cats, and passionately discussing the nuances of television and film. Follow her on Twitter and email her here at TV Fanatic.