Jane the Virgin Season 1 Episode 14 Review: Chapter Fourteen

Mary Kate Venedam at . Updated at .
It's a telenovela world. 
Finally, on Jane the Virgin Season 1 Episode 14, Jane saw the outrageousness that we, viewers, have seen every week as the Sin Rostro case continued to get out of hand.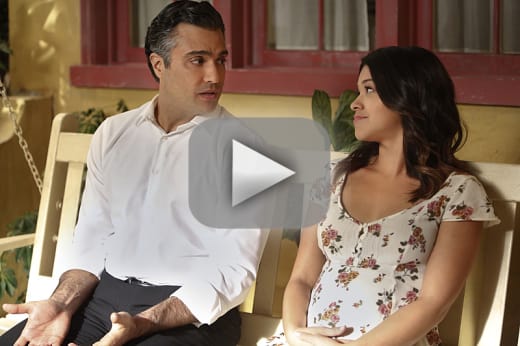 First, after the big reveal of a Zazo and Rafael secretly meeting on Jane the Virgin Season 1 Episode 13, the aftermath turned out to be less than thrilling...it was supposedly​ Zazo's twin brother, Aaron. To be honest, there seems to be so much more to this story and, after the elevator run-in between Petra and "Aaron," I am very suspicious of this truth. My prediction: Aaron is Roman Zazo. 
This was much of the beginning of the (to coin a new phrase) telenovela-ness of the episode. Jane's interpretations into the telenovela world were perfect. Her confusion as she got lost into the conversations along with those she watched were so fun I could've watched much more of her imagination. 
However, the problems in the Solano family got much bigger as Rafael learned who the true Sin Rostro was and, even worse, Emilio's death. Poor guy can't seem to catch a break. Hopefullym it's not karmic payback for his irresponsible playboy days. 
It started with helping Luisa out of the mental hospital, something she didn't even need help with. As much as I wasn't a fan of Luisa in the beginning of the series, mental hospital-Luisa has been a lot more enjoyable with her conversations with her mute roommate and elaborate plans to get her truth out. I'll miss crazy Luisa (sorry, wrong word). 
It was interesting to see the journey of Luisa and Rose (maybe not the details Luisa wanted to give them in), but to see how their relationship began and how Emilio intertwined into it. It makes sense why Rose used Emilio. It will also be interesting to see the aftermath of Luisa running away with on-the-run Rose. 
Then there was Petra. Just when you thought she had turned a new leaf, Milos bought her part of the hotel and she didn't waste any time getting control of the Marbella; even manipulating Luisa into her shares. She can go from seemingly nice to control freak real fast and I can't imagine the trouble she is going to cause now.
In the less crazy world of Jane and her family, Rogelio continued to contemplate his job offers. It was so odd to see such a subdued Rogelio. He still managed to offer some laughs, but I enjoy the self-absorbed, yet sweet, version of Rogelio much more. 
Jane: Thanks for coming today, it really meant a lot.
Rogelio: Of course, in such sad days, it helps to see a celebrity.
Other great Rogelio moments included the growing relationship between him and Jane. I loved his persistence on making sure she calls him 'dad' now that she broke that barrier. It was also a sweet moment to see Jane sit her parents down and have them admit their feelings for one another. Jane the Matchmaker.
Jane: Hey, Rogelio!
Rogelio: Dad. You are locked into dad now.
I'm glad that Rogelio took the local job. For one, we are not losing – even for a few episodes –one of the most entertaining characters of the series. Though, it will be interesting to see how Rogelio and Xo navigate through their newfound commitment.
To end it all, there had to be an adorable Jane and Rafael moment and, boy, was there. After contemplating the baby registry and Rafael's family drama, not only did the parents-to-be exchange "I love you's," but Rafael wanted them to move-in together. How cute!
What did you think of "Chapter Fourteen?" Do you think Jane and Rafael should move in together? What trouble is Petra going to cause with hotel ownership? Is Aaron Zazo really Aaron Zazo?
If you want to catch up on anything you've missed make sure you watch Jane the Virgin online via TV Fanatic.
Mary Kate Venedam is a staff writer for TV Fanatic. Follow her on Twitter and on Google+.