There was plenty of intense showdown and entertaining asides on NCIS: Los Angeles Season 6 Episode 14.
However, its main attraction was the overarching theme of fatherhood which had Deeks striving to reunite three generations of men separated by drug cartels across the US/Mexican border.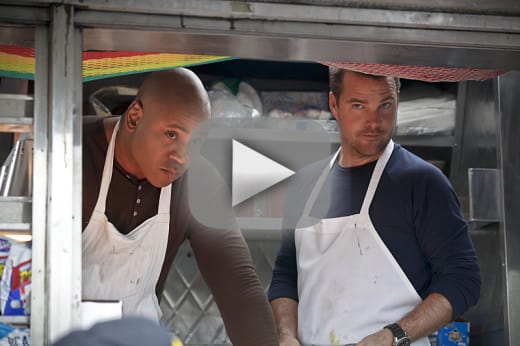 It was interesting to see the episode transform from more than the impending threat of a biological attack. Although Deeks seemed the most affected, the team as a whole was up in arms over the injustice initially served to Alejandro. Despite his criminal past, he was a victim of circumstance and had earned his freedom through cooperation. 
Sam, Callen, and Kensi all thought that Homeland Security was punishing NCIS through an innocent bystander, but it was Deeks who couldn't handle letting down Alejandro's grandson.
It was tough, but Granger had to put his foot down – they had already stepped on enough toes throughout the mission.
Deeks: This is temporary, we just gotta make a couple calls and -
Granger: Don't make any more promises you can't keep.
The team split up into the usual subgroups, with Sam and Callen tackling the case from across the border, while Kensi and Deeks followed leads back in the States – much to Deeks's disappointment. 
His request to go to Mexico, based off the strength of his experience surfing in the area, got the perfect response from the ever-witty Hetty:
Deeks: Oh come on Hetty, I know Mexico! I've surfed all around that country.
Hetty: Oh, so have I.
The eternal cheeseburger vs veggie burger argument plagued Sam's and Callen's first few hours undercover in their food truck, but they seemed to get the hang of it pretty quickly. Back up career anyone?
I, for one, prefer veggie burgers, not for health reasons, but because I'm a vegetarian (there's nothing healthy about the way I eat!).
And, as a matter of fact, there's also nothing conservative about my day-to-day activities either – I think I'd definitely let Deeks down, since he's clearly trying to save the planet all by himself.
That's fine and all, but you don't mess with a man's bathroom routine, Deeks!
In this land of fun and sun, we don't flush for number one.

Sam
There were more endearing interactions between Kensi and Deeks throughout the hour, especially during Hetty's story towards the end. Although, Deeks sure wasn't chivalrous when he played rock, paper, scissors with his girlfriend in order to save his own life. The chemistry between the two is definitely still apparent and I'm waiting on more development in that area. 
I think it's obvious because the winner lives, and the loser faces certain death.

Deeks
When I saw the two rescue Alejandro's grandson and his daughter-in-law, I couldn't help but get a Mr. & Mrs. Smith flashback – Kensi and Deeks would probably be some badass parents. 
Granger also showed a softer side tonight when he managed to work over each and every department necessary to fix the mistake they made with Alejandro. Rather than take it for what it is, he earned a hug from Deeks – even if it was unwanted. 
Deeks: Oh my god I'm gonna hug you.
Granger: No you're not.
Deeks: Yes I am.
The anthrax angle, although exciting, was probably secondary to the one of Alejandro's reunion with his family. The former lead to a pretty epic showdown at a heli-pad, while the latter hit right in the feels.
Regardless of which aspect of the story you preferred, the team still earned the right to declare, along with Sam, that they "kicked ass." 
We came, we saw, we kicked ass.

Sam
Watch NCIS: Los Angeles online to catch any moments you may have missed, and head over to NCIS: Los Angeles quotes to refresh on any of your favorite moments. 
What did you think of the determination Deeks had to assist Alejandro? Could Sam and Callen go big-time with their food truck? And have you tried picturing Hetty on a surfboard yet? Because I have! 
After a week off, NCIS: Los Angeles definitely returned as solid as ever with an entertaining hour that was packed with action-filled tension, as well as satisfying drama.