The Night Shift Season 2 Episode 1 Review: Recovery

Carissa Pavlica at . Updated at .
The team is back, but things have definitely changed for some of our favorite doctors and nurses at San Antonio Memorial Hospital!
Last year, this series was a breakout summer success, so much so that NBC decided to bring it back early. Will the magic make the transition? Time will tell. The Night Shift Season 2 Episode 1 picked up with the gang shortly after the events that transpired at the end of The Night Shift Season 1.
Topher suffered a gunshot wound after a hostage situation that lead to TC having a mental break(through) about his brother, Thad, and what happened in Iraq and Ragosa learned his ailing vision was connected to a brain tumor. The good news is, things are looking up for all involved!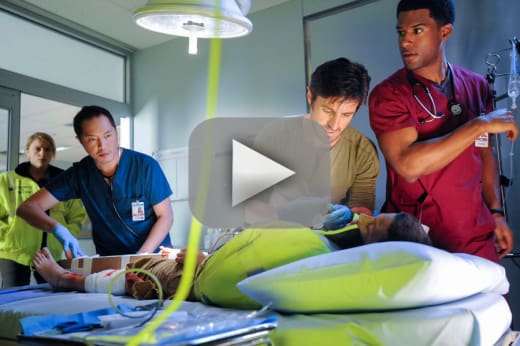 While the cases of the week can be incredibly interesting and often very moving, the heart of The Night Shift lies in its residents, the doctors and nurses who make the shift sing. They not only look out for their patients, but for each other.
They annoy the hell out of each other by playing various pranks (and they were on fire in the season premiere) for levity in otherwise very tense conditions. They're faced with some of the worst cases doctors ever see. The rebar through the brain and the elevator were particularly grueling. 
When things get rough, they have each other's backs and that sometimes lands them in hot water. It also allows them to find their way out of otherwise terrible situations. TC's breakthrough about his brother was a long time coming. He suffered severe PTSD, but still managed to hold himself together as a doctor. It was his personal life that suffered. His suspension has been good for him.
Working in search and rescue has given him a fresh perspective. Selling Thad's bike might come back to haunt him, but if it's helping him to move on from the losing hand he and his brother were dealt, then will do him good. Using the money to repay the help he received from his search and rescue partner by paying for her surgery was a kind, selfless act.
We met a new doctor, Chavez (played by CSI Miami hottie Adam Rodgriguez), checked in with Drew (learning Rick is taking too many pain meds for his amputated leg), discovered Topher is running the night shift while Jordan's being scrutinized for her actions in the hostage situation and heard  Krista and Kenny finally took the plunge into relationship territory. 
We only barely brushed the surface of all of their stories in the premiere, but a really exciting development came to us courtesy of Ragosa. I've enjoyed Freddy Rodgriguez since Six Feet Under, and last season he really brought Ragosa to life. The way he transformed from the uptight pencil pusher to wanting to find ways to strengthen the care given at SAM was really enjoyable to watch.
I was a bit saddened to learn Daniella Alonzo (who played Landry) wouldn't be returning, as their characters really had something special. However, this new turn of events is really encouraging. He had two fantastic The Night Shift quotes and I'd be remiss not to include them here, they're that good. First, he quit.
Ragosa: I did it because, um, I wanted to do one decent thing in this job before I quit.
Administrator: You're quitting?
Ragosa: Yeah. I quit. I don't wanna do this job anymore. I had a piece of my brain
removed to give to my tumor. Most people could barely recite the alphabet after that, but I have all of my faculties and I refuse to push paper at a place where everybody hates me! Aaaah. This feels so good. You have no idea how good it feels to finally do what you want to do. Yes. Yes. I quit and I could not be happier.
Ragosa's new attitude almost felt as if he was high, tripping the light fantastic. Instead, he had turned over a new leaf. The reality of what his did kind of crept up on him, however, as it is wont to do when you have your Jerry McGuire moment or your Neil Truman moment, as he did in USA's Satisfaction.
Topher: Are you OK?
Ragosa: No. I am not OK. I made a huge, massive mistake. You see these big speeches in the movies and it looks cool, and the guy gets the girl and the job and the music plays? Well, it ain't happening! There is no music. I am so, so screwed! What the hell was I thinking?
Topher: Clearly, you had some things to get off your chest.
Ragosa: I couldn't have waited? He was 30 seconds away from firing me. I would have had a severance package, I would have had COBRA insurance. Do you have any idea how much insurance costs for a year for a family?
Topher: Absolutely. About twenty grand. You know we don't get insurance here.
I don't think there's any doubt Ragosa will take the job as a physician's assistant. It will be so much fun to see him in a different light, learning under the very people he managed and to feel the pressures he once put upon them. They'll raz him, no doubt, but he'll also make a great doctor. Kudos to Topher for making the suggestion.
Other things to think about:
I was surprised Scott stuck around and that he was so harsh toward Jordan. He's not quite part of the team. I wonder what's in store for him.
TC can't be in search and rescue much longer. He's too valuable to the team and his presence creates valuable tension in the ER. Let's see some TC and Jordan steaming up more than just the elevator!
The new paramedic is obviously an old schoolmate of Jordan's and TC's, but I didn't catch her name. I loved that TC got Jordan Spice Girl tickets for her and her friend.
TC cannot become too good. He needs that bad boy edge. So what's he going to do to keep it?
I cannot believe they don't have insurance. I hope it's because they treat each other pro bono because WTH kind of hospital could cut those corners for their employees? Maybe now that Ragosa's no longer in charge...
The Night Shift Season 2 has a lot going for it. Not only does it have a wonderful, talented and beautiful (inside and out) cast, it's bolstered by interesting medical cases and compelling relationships. It also benefits from the lead-in of The Voice. While many eyes are looking to Chicago Med when it comes to medical dramas on NBC, they're missing out.
Right now, The Night Shift is the one to watch. Don't miss it!
We'll be back next week for The Night Shift Season 2 Episode 2, "Back at the Ranch." Will you be watching? Hit the comments to let us know what your thinking!
Carissa Pavlica is the managing editor and a staff writer and critic for TV Fanatic. She's a member of the Critic's Choice Association, enjoys mentoring writers, cats, and passionately discussing the nuances of television and film. Follow her on Twitter and email her here at TV Fanatic.