The Real Housewives of Atlanta Season 7 Episode 13: The Final Countdown
Miranda Wicker at . Updated at .
When last we saw our lovely ladies of the ATL, Claudia was snuggling up to Kordell Stewart, Apollo was apologizing to his boys, and Kandi was getting really, really "birds and bees" with her girls. 
Tonight, on The Real Housewives of Atlanta Season 7 Episode 13, Porsha and Claudia are going to have it out. Get the popcorn ready!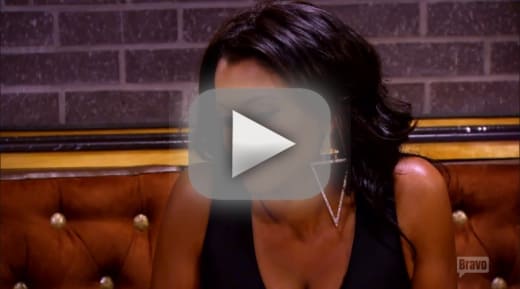 Kenya's meeting with Roger Bobb to pitch some ideas for a TV show and her cleavage is on full display. Minus 8. If you want to be taken seriously for your talents and not your ta-tas, put them away.
Her first pitch is for a show called Three Brown Girls. Three brown girls whose last name is Brown. She'll play herself. Her second pitch is for a show called Life Twirls On and is a straight ripoff of her experience on The Real Housewives of Atlanta featuring characters named NoNo, Athena, and Dee Dee. Ugh, Kenya. 
She wants Eddie Murphy, Christina Milian, and Megan Good. Also she's insane.
She doesn't like it so much when Roger Bobb tells her he won't be in Atlanta to be at her beck and call while the show is being produced, if it ever gets produced. She's "not Demetria."
"If it's over 10 pounds and walks on four legs and it's not your drunk husband, I think it needs to be outside." --Phaedra Parks, on dogs. 
Phaedra's visiting a friend who happens to be a therapist to ask about how to talk to the boys about Apollo's situation. His suggestion makes sense. Tell them he's broken adult rules. Good advice. Plus 7.
Apollo's visiting his attorneys because he only has four days left. Phaedra hasn't filed for divorce yet, and Apollo wants to make sure Phaedra's going to have to bring the boys to see him while he's in jail. The attorney plans to file for an emergency hearing if he has to so that Phaedra will have to bring the boys to see him.
Phaedra's therapist-friend tells her that the boys won't be damaged by visiting their father in prison, that it can be done. 
It's weird how these two conversations are parallel unless the producers are telling Apollo and Phaedra what to talk about, which hey, they might be. 
Apparently Apollo has gotten erratic and angry at home because Phaedra won't tell him that she'll bring the boys to see him and she's scared. (Somehow I'm not actually buying that, but meh, maybe she is.)
NeNe and Porsha get together for drinks. Oprah said if you eat a salad after your meal, it'll help your food digest. Porsha's ordering a salad to go. 
Dish Nation is throwing a party to welcome Porsha to the team and Porsha's hoping Claudia won't show up. She's really, really not a fan of Claudia Jordan. That means Claudia will definitely come to the party and drama will definitely go down. Plus 8.
Kandi and Todd get some news about the play, A Mother's Love. They're not selling enough tickets to keep it going and they have to cancel the tour. The promoter overextended himself and now he doesn't have the money to continue the tour.
Kandi's a control freak and for good reason. So things like this don't happen. Her name's on this and she's the one who'll take the blame for the failure. Todd tries to comfort her but does a miserable job at asking pointed questions that pretty much make her feel like garbage. Minus 12.
Kenya thinks Roger Bobb's not supporting her in her endeavors. He said he'd get her writers and all she's getting are emails that say "I wish I had better news." Uhhh, sounds like he's trying but...doesn't have better news. So, you know. 
Kenya and Brandon are going to shoot a pilot by themselves. Brandon says there's nothing they haven't conquered before, but they still can't manage to find her an office space for whatever it is she does for money aside from be on this show. Minus 12
Kenya decided not to go with a parody of her current life because it would take the focus away from her. Or because it's already a show on Bravo that she's getting paid to do. Whichev. 
Claudia's looking to get a wig from Derek J for the Dish Nation party. Then she invites him to sit on the bed because I think she still doesn't have a freaking couch in this apartment. Minus 7. Get a couch, woman!
I still can't decide why Claudia hates Porsha so much. Because she didn't talk to her that one day? Ugh. Drama.
Kandi and Todd head to the Kandi Factory to break the news that the tour is canceled to her team. Don Juan and Johnnie erupt into laughter about Aunt Bertha's line that it was a scheme Todd made up. Kandi and Todd aren't amused. At all.
The Dish Nation party is here and Porsha's family have come out to support her. Cynthia shows up in her wig. She says she's there because this is a Rickey Smiley event and they need to get along, no matter what. Porsha thinks it's tacky Claudia came to the event.
After talking with some co-workers about the vibe in the office, Claudia calls Porsha over while she's on the way to sit with her family. Claudia congratulates her on the job. All Claudia wants is a cordial work environment since they do see each other there.
"In passing," Porsha says. And Porsha doesn't think it's uncomfortable at all.
What it boils down to is Claudia's mad that Porsha laughed during the dinner in Puerto Rico. Or something. She went to the party with the intent to jump on Porsha. Minus 25.
At Phaedra's house, she tells her mom that he's running around telling people she must be having an affair, he's threatening to burn down the house and drinking all the time, he's punching through walls. She thinks he's suicidal or psychotic. Pastor Regina isn't going to let her stay there if he's threatening her. 
Mama says they're leaving. She doesn't want to walk into the house one morning and find everyone dead. 
EPISODE TOTAL: -49 SEASON TOTAL: -548
Next week, Apollo and Phaedra have a showdown. Watch The Real Housewives of Atlanta online now to make sure you're caught up before it happens.
Miranda Wicker is a Staff Writer for TV Fanatic. Follow her on Twitter.