The Real Housewives of Beverly Hills Season 5 Episode 14: Full Episode Live!

Christine Orlando at .
Ken threw wife Lisa Vanderpump a surprise birthday bash on The Real Housewives of Beverly Hills Season 5 Episode 14 and she was certainly in for a surprised.
First off, she never saw the party coming and secondly, she never would have thought that Brandi Glanville would be invited leaving her to out and out ask Ms. Glanville, How did you make the cut?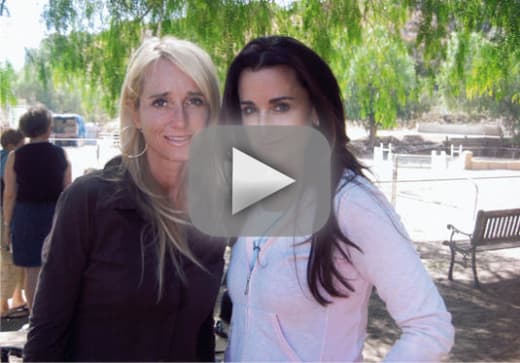 But when Lisa got her giant pink diamond ring, the guest list failed to matter. Of course she also got Brandi to embarass herself by singing to Lisa that she's sorry. Did we mention that Brandi has no singing voice? 
Elsewhere, Eileen Davidson and Lisa Rinna grew more concerned about Kim Richards. They both felt that it was their moral obligation to not ignore Kim's odd behavior that led them to believe she was having a relapse. But it seems that neither Kyle nor Brandi know very much about how Kim handles her addiction issues. When asked whether Kim had a sponsor or went to meetings, neither one seemed to have a clue.
Depsite Eileen and Lisa's good intentions, we don't think this is going to work out very well. The last thing Kim wants is anyone questioning her addiction issues.
You can watch The Real Housewives of Beverly Hills online here at TV Fanatic. 
C. Orlando is a TV Fanatic Staff Writer. Follow her on Twitter.