The Real Housewives of Beverly Hills Season 5 Episode 14 Review: Surprise!

Christine Orlando at .
There was more than one surprise on The Real Housewives of Beverly Hills Season 5 Episode 14 but only one reaction was priceless. We recap it all in our +/- review.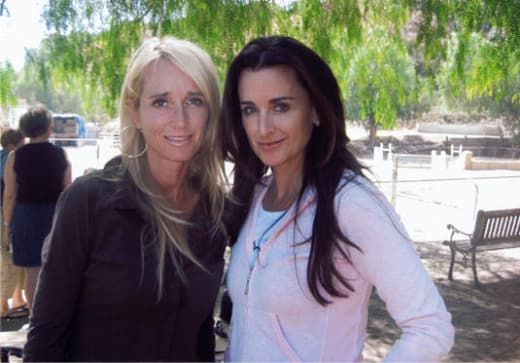 Where to begin…well to start with Brandi Glanville is going alcohol free for 21 days thanks to Yolanda Foster's cleanse diet. Plus 21. I really hope that Brandi can do it because right now it's a toss up whether Brandi needs alcohol or just enjoys being an irresponsible party girl. Neither is really good but one is definitely more serious than the other. 
How often does Yolanda have her yoga instructor come to her home? Is this an every day thing? Plus 30. If I had my own personal instructor and that gorgeous view I think I'd be inspired to do yoga every morning too. 
Now Yolanda is planning some kind of scavenger hunt thanks to a talk with Billy Crystal. I can't wait to see how that turns out. 
Eileen Davidson invited the ladies over (sans Brandi, plus 10) to do a table read for her husband's script but the drama surrounding Kim Richards was way more intriguing than any of the dialogue we heard from the screenplay. Minus 15. 
The no alcohol policy was definitely the right call, despite Vince's hope of loosening everyone up. As Eileen tried to explain in this The Real Housewives of Beverly Hills quote, the ladies are already pretty loose…
These women are talking about their vaginas more than you could possibly know.


Eileen Davidson
So are Eileen and Lisa Rinna right? Do they have a moral obligation to say something about the behavior they've observed from Kim? Everything they've seen certainly points to the fact that she's having a relapse. I also found it odd that Kyle has no clue how her sister has been handling her addiction issues. Does she have a sponsor? A therapist? Does she go to meetings? Apparently Kyle has no clue. Minus 23.
Does Kim need help? Probably. Is she willing to actually get help? That's the real question and if the clips from next week are anything to go on, it certainly doesn't look like it.
The big surprise was two-fold. Lisa Vanderpump's reaction to her surprise birthday party was priceless. Plus 37. She was truly shocked, almost to the point of tears. Of course she recovered quick enough to ask Brandi how she made the cut?
Which is a valid question. Why would Ken invite Brandi? The Vanderpumps don't particularly like Brandi and they certainly don't trust her. But I have to say that asking Brandi to embarrass herself with bad singing was just tacky. Minus 22. 
Of course Brandi got her digs in when everyone else took their turns…
The menopause mommas were fighting over the mic.

Brandi Glanville
Episode total = 38!                         Season total = -371!
You can watch The Real Housewives of Beverly Hills online right here at TV Fanatic. 
C. Orlando is a TV Fanatic Staff Writer. Follow her on Twitter.