Better Call Saul Season 1 Episode 8 Review: The Brothers McGill
Miranda Wicker at . Updated at .
At times during Better Call Saul Season 1, the story has felt somewhat heavy, not in an emotional sense, but in an expositional one.
While some of that is necessary so that viewers get a full picture of just who Saul Goodman was when he was Jimmy McGill, it has sometimes felt like very little progress has been made for our lovable and loquacious anti-hero.
Better Call Saul Season 1 Episode 8 didn't suffer the same fate. Tonight's episode drove the plot forward at a refreshing pace while also developing a solid B-plot regarding Mike.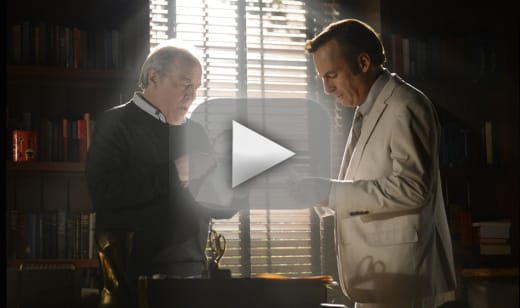 The development of Saul Goodman has been a slow one, for sure, and that's okay. With a Better Call Saul Season 2 announcement coming before the first one had even aired, the writers and creators have time to make Jimmy's transformation a slow burn. But some of this season has felt a little beleaguered. (SOME. Not all. Just some.)
Last week we witnessed Jimmy have an emotional moment after turning over the Kettlemans to HHM. He did it for his friend but also because he knew there was no way to win the case. He's a man running on hope and last week that hope nearly ran out.
Because he has a job to do, Jimmy soldiered up this week, returned to his elder clients, and stumbled upon what might be the case to put him on the map. Maybe. If Chuck's assistance doesn't end up getting the case ripped away from him.
Finally we understand Jimmy's disdain for HHM. 
Once upon a time, he worked in the mail room there, and after hiding the fact that he was attending law school at night from his brother, Jimmy passed the bar and asked for a job. Chuck's reaction to both Jimmy's news about participating in a distance learning program for law school as well as his request for employment was very telling. This is not a man who really trusts his brother. 
It wouldn't be surprising if we learned that Chuck made the decision not to hire Jimmy but had Howard act as his mouthpiece to deliver the news and take the fall for him, which makes his current dependency upon Jimmy all the more interesting.
Jimmy, without knowing that work was what Chuck needed in order to feel like himself again, has managed to help his brother more than either of them imagined. Or maybe Jimmy did know that Chuck needed more work after learning that Chuck organized the files Jimmy left at his house. 
Either way, Chuck is making progress, but he doesn't even realize it's the work making all the difference, which just makes me more curious about what the inciting incident was which turned Chuck into an electromagnetism-fearing hermit in the first place. 
The final camera work tonight was fantastic. The decision to use a long camera shot by which to view Chuck dropping the files in the driveway was great because it emphasized the shock of the moment. 
Here's Chuck who has just ventured outside and touched a cell phone and a key fob all without realizing he's even stepped outside and here's Jimmy watching it all happen. Jimmy knows Chuck's issues are in his head, but he can't bring himself to say that. Here's more proof, though, and that will undoubtedly become a sticking point for the brothers. 
Chuck is clinging to this fear for some reason while deep down he's starting to realize it for what it is: unfounded, crippling, and detrimental. Even Chuck seems to realize he's happier and more energized when he's working on a case, even if the thought of meeting with other lawyers and stepping back into that arena – even on his own turf – terrifies him.
Next week on Better Call Saul Season 1 Episode 9 Chuck will go with Jimmy to HHM, so he's making more progress. That will likely come with several giant steps back, but hey, progress is progress, right?
As for the case, while Jimmy definitely wants to land a case that will put him on the map, there's also this very real sense that Jimmy cares about his elder clients and doesn't like that they're being screwed over by the company in whom they're placing their trust, in both the monetary and emotional sense of the word.
That's part of what's so likable about the character. He's incredibly intelligent but up until relatively recently hasn't used his powers for good. Being good isn't exactly getting him anywhere, though.
Nor is it getting Mike anywhere. 
Since learning Mike's history in Better Call Saul Season 1 Episode 6, probably my favorite entire episode of the series so far, I've wondered when Mike would venture back into the world of being a good man who does arguably bad things.
Do they count as bad things if he's doing them for a good reason?
Mike wants to see to it that his daughter in law and granddaughter never have to suffer, so if that means taking the occasional odd job or one day being head of security for a meth distributor, so be it. 
Mike's story tonight illustrated what has made the previous episodes feel so heavy. This was a secondary plot unrelated to the main one giving us a break from Jimmy and his legal and interpersonal woes. Previously we've gotten a break from Jimmy's professional drama by focusing on his personal ones and that's where the weight has come from.
Audiences need a distraction from time to time, a brain break if you will, and what better break to give us than to spend a little time with our second favorite man for hire, right?
What did you think of "RICO"? Were you surprised by the way Chuck ventured outside? How do you feel about Mike picking up odd jobs? Sound off in the comments below and watch Better Call Saul online!
Miranda Wicker is a Staff Writer for TV Fanatic. Follow her on Twitter.