Black Sails Season 2 Episode 8 Review: XVI

Henry A. Otero at . Updated at .
For a relatively quiet installment, Black Sails Season 2 Episode 8 sure did provide some major revelations and a very unexpected death.
Were you surprised that Lord Ashe greeted Flint and Miranda so civilly? It was great to see young Abigail step up and take Flint's side. Will the negotiations go well?
The biggest surprise this week came in those final moments. If Eleanor had any doubt Vane was now enemy #1, he just confirmed it with his cruel, defiant act. Things will never be the same for him and Eleanor ever again.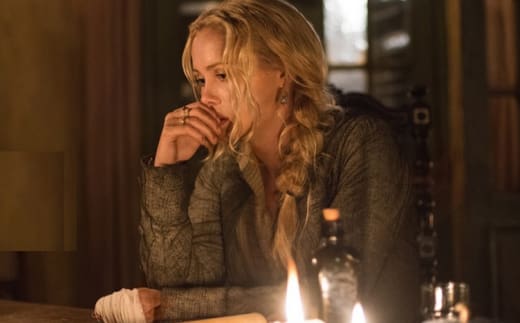 I enjoyed learning a bit more about Abigail Ashe throughout the episode. This helped humanize her, as most of the season she was seen as a prize to be won. The long voyage allowed her to see the pirates as sailors and men versus monsters.
All her life she heard terrible tales from her father, including of Captain Flint. The truth turned out to be much less glamorous. Once she heard Billy's story, she softened up to the pirates, ultimately taking Flint's side.
I doubt things would have gone down as smoothly had Abigail not taken action.
Flint: She was writing about me.
Miranda: Do you think?
Flint: I suppose I can't blame her, a girl her age with what she's been through. It's a credit to her that she can function at all.
Featherstone is so damn erratic, it's no wonder he gave the game away. The guy called so damn much attention to their plans, they probably did hear the fool on the moon. I have this feeling, in time, Anne will become his quartermaster.
I remember Mrs. Mapleton, but not that she had been hired to spy for Eleanor. Either way, the woman certainly connected all the dots perfectly. Now Eleanor knows what Max and company are up to. I'm not sure what she's going to do about it though. Any ideas guys?
Silver certainly has the crew's ears now. Even though he was telling other people's stories, the power he held over the men was impressive. When he hinted his co-conspirator was going to be problem, I was surprised how easily the other guy, Vincent, took action.
Silver: Why?
Vincent: I thought you made it clear what I was to do.
Silver: How the fuck could you have thought that?
Vincent: You said he could sink us. You gave me a look.
Silver: Let me see if I have this. Flint gives an order, but to get you men to follow it I need to come down here, put on a show and convince you it's in your interest? But I give you a look, and you're willing to murder a man over it?
Vincent: I listen to Flint because you tell me it's in my interests. I listen to you, because I know you give a shit about my interests and I ain't the only one that thinks that way.
Was this the realization Silver needed which will ultimately lead him to captain his own ship? A shift in power is inevitable, the only question is when Silver will make his big move.
Captain Flint and Miranda worried throughout the installment that Lord Ashe would judge them. Listening to Abigail recount the story of the man Flint killed aboard that ship, I realized it wasn't Thomas, but his father. This definitely cleared things up for me; now I've got the story straight.
Again, it was surprising that Abigail took Flint's side. Though Lord Ashe welcomed Flint and Miranda to Charlestown, we don't know for sure how the negotiations will go. Do you think Ashe is grateful enough to listen to Flint's plans for Nassau? Will he really backtrack on all the anti-piracy work he's done for so many years?
Stop! They're telling the truth. He's an old friend of my father's, I remember him. I know him. And if you strike him again, my father will know you did so after I made this clear to you.

Abigail
Rackham's plan to store the gold in the fort was bloody brilliant, but I could not imagine that Vane would go along with the plan without a nice chunk of compensation. We were lead to believe Vane's crew had turned on him and he was the one hanging on that cross. I honestly wasn't expecting it to be Richard Guthrie.
Eleanor knew something awful had happened, it was written all over her face. What will she do next? Vane crossed a line. I doubt she will rest until the pirate is six feet under. Their history and any feelings she had for him just went in the crapper.
How exactly did Vane and his crew follow Flint to Charlestown? I wasn't clear on that; were you?
What did you think of this week's installment? Will Lord Ashe cooperate? Can Jack and Max successfully bring the gold back? How will Eleanor deal with Vane? Your turn Black Sails fanatics, hit the comments below and share your thoughts with me.
Remember you can watch Black Sails online via TV Fanatic if you ever miss an installment.
NOTE: Black Sails Season 2 Episode 9 is titled "XVII" and airs on Saturday, March 21.