Blue Bloods Season 5 Episode 17 Review: Occupational Hazards

Christine Orlando at . Updated at .
For the most part, the Reagan family are smart people with a lot of common sense who rely on one another in a crisis and for most of Blue Bloods Season 5 Episode 17, that proved to be true, expect for the moments that had me yelling at my TV screen.
If Erin honestly suspected that someone was sneaking into her apartment, why were she and her teenaged daughter still staying there? She'd suspected it had happened twice before.
The first time, I could understand that she'd think she might be imagining things, but the second? Why hadn't she installed a security system or had detectives sweep the place earlier? And why not just call her brother, the detective. 
I know the Reagans don't like to ask for favors or do anything that makes it appear that they're getting special treatment but this was taking it to the extreme.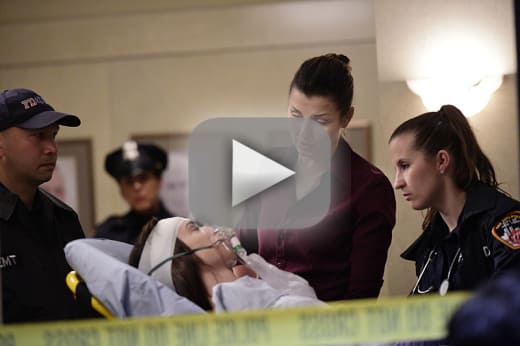 At least when she realized that there was something wrong at the office she immediately went back for her gun and to call security. In reality she should have remained in her office until someone got there but then she wouldn't have been the one to find Morgan lying unconscious and bleeding. 
The only other oddity was that we didn't get to hear Frank weigh in on all of this, other than being an escort for Nicky.
Speaking of Nicky her naivete drives me crazy. The girl has grown up in New York City her entire life. Can she really not spot a scam like the fake fundraisers who slap a logo on a jar and wander around collecting donations? Has her family sheltered her that much?
But that scene where Frank questioned the kid hustling for funds was my favorite. When Frank gave the kid that knowing smile as he said, "I just want to say thank you to whoever's in charge" I couldn't help but smile too.
I get that it must be, in some ways, difficult growing up in a law enforcement family where everyone is surrounded by the worst of humanity every day. Nicki's right, she couldn't survive it. It would drag her under and she has the right to pursue something she'd find more satisfying but as Frank pointed out in this Blue Bloods quote…
You're going to have a tough time making a living assuming the best in people.

Frank
Or she's probably going to get taken advantage of a lot before she grows a thicker skin. 
However, I do wonder if Frank chose to tell her that the "charity" was all a scam or if he protected her from that reality?
Jamie and Eddie had a heck of a day as they almost got blown up, twice. The only thing that saved them the second time was a well place bullet from Jamie's gun. 
Is it just me, or do all of the detectives they come across seem arrogant and narrow-minded?  I know that this one eventually came around but that wasn't until Jamie and Eddie broke the case. Until then, he made it clear that Eddie trying to work her angle on Beth was a waste of time and gave them nothing but attitude for their efforts.
I was proud of Eddie for giving her phone number to Beth, although I'm certain she'll have days when she'll regret it. Maybe she should bring Nicky along to show her what helping people is like in the real world. 
You can watch Blue Bloods online any time right here at TV Fanatic. 
C. Orlando is a TV Fanatic Staff Writer. Follow her on Twitter.