Suits Season 4 Episode 16 Review: Not Just a Pretty Face
Chandel Charles at . Updated at .
A sudden death, an engagement and a breakup.
Leave it to the Suits finale to cram in all it can and them some, leaving us starving for more until the show returns to us this summer.
But, while it's still fresh, let's take a look at Suits Season 4 Episode 16 and all the moments that made it a great season finale.
One of the things Suits does best is flashbacks – and they series interspersed quite a few flashback elements this season, satisfying our love and need for both perspectives of our favorite cast of characters.
What I really enjoyed about this one was its inclusion of Harvey's younger brother, Marcus, whom we had met to meet yet, and whose desire to open a restaurant was something unknown to me. If anything, Harvey's call to him at the end, letting us all know that the move Harvey made was worth it, meant the world to me. Marcus is married – with children!
But, let's talk about what it cost Harvey to help Marcus make that step forward. It is interesting to me that even Donna, who had never spoken two words to Forstman, could tell that he was a shady guy. She wasn't the only one. Jessica warned him, too. Harvey clearly discovered the truth for himself – a minute too late.
In the end, though, Harvey managed to pull out the win by wearing a wire.
That wire, though, was only after seeing a very distinct look of uncertainty on his usually smug face that might have convinced the casual viewer that he wouldn't pull this one out. Lucky for Harvey, he has both Mike and Rachel working the case and determining out that the case is more personal than Harvey was willing to let on by himself.
Things only seemed to get worse for Harvey when it came to his relationship with Donna. It seems his casual "I love you," which I mistook for a possibly romantic declaration, was more for comfort than some big emotional move on his part.
It's truly not clear in what way Harvey loves Donna; it could be casual or romantic or collegial for all we know, or maybe even all Harvey himself knows. All he knows now is that Donna is not working for him anymore, and I think that's the one thing that could truly hit him where it hurts.
Harvey clearly has an emotional block when it comes to a lot of things, but most especially with the women in his life. As a result, it probably shouldn't have surprised him that he finally really screwed things up with Donna.
And as for Donna... Do we know what she really wants from Harvey? Does she want the relationship? Does she simply not want Harvey to pity her? When she said "this arrangement isn't working for me anymore," was she standing up for herself and letting Harvey know her move was more about her than it was about him?
These are all the questions we're going to keep asking ourselves while the show is on hiatus.
However, there's one more thing we should really take a moment to discuss, and that's Norma's unexpected death. I was really hoping we were going to get the chance to finally meet her.
But, I think, like all good characters in her category, remaining unseen may be the more powerful role that she played. In this installment, it allowed her to stand in for the idea of letting the people around you know their importance in your life, which prompted some people to take immediate action; mainly Mike.
Before we skip to the engagement, Rick needs another hats off for his emotional performance as he worked through his grief over the loss of Norma. So does Sarah for her handling of Donna's responses. I really loved his speech to the people attending Norma's service. It was a way to ground the moment.
So not let's talk about Mike. As much as I loved Mike's moment with Rachel just before they got engaged, I can't help but think that this is just one in the long line of impulsive decisions Mike is prone to making. That's not to say that Mike and Rachel aren't endgame and won't make it there at some point, but perhaps this point wasn't it.
We will have to see what happens in Suits Season 5.
So now that we've seen the season come to a close, how about we go back and watch Suits online a few hundred times before it returns to us this summer?!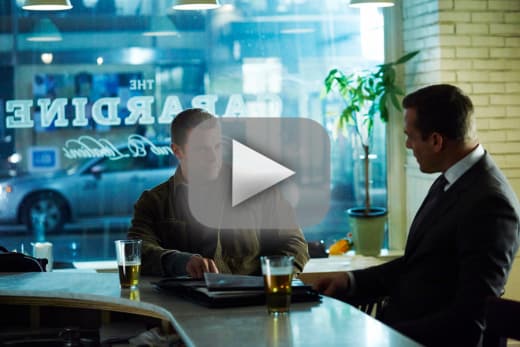 C. Charles is a TV Fanatic Staff Writer. Follow her on Twitter.