The Night Shift Season 2 Episode 2 Review: Back at the Ranch

Carissa Pavlica at . Updated at .
Things are just speeding right along.
On The Night Shift Season 2 Episode 2, TC is suddenly back on the job at San Antonio Memorial, but I missed the explanation of how he got reinstated. Ragosa is a full-fledged physicians assistant and Chavez has Scott's job since Scott couldn't stomach working with TC. 
These are things that somewhat came out of nowhere, but overall didn't detract from the enjoyment of the installment. They just required you to shake it off and go along for the ride.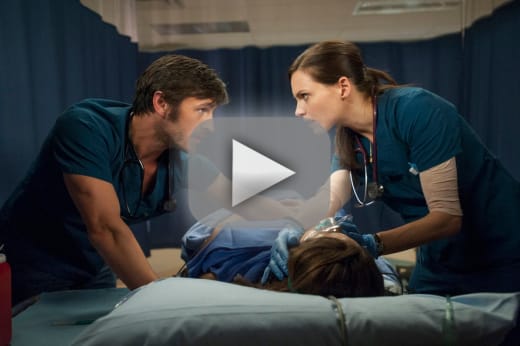 Jill Flint mentioned in our interview that Jordan didn't really want the job as chief, and it was cute seeing Topher worrying about broaching the topic the entire shift. His idea to enlist TC to act as a middle man so as not to ruffle Jordan's feathers wasn't well thought out, but in the end, they were on the same page.
Apparently the only person who wasn't on the same page was Topher's wife. From the phone call, she seemed somewhat put off at the idea of him spending even more time at work, even if it meant more money coming in. Whoops! It's best to tackle those topics with the spouse first.
We knew it was coming. Chavez has the hots for Krista. OK, who doesn't have the hots for Krista? It was uncomfortable watching Chavez teasing Krista that he wanted to ask out Jordan (since that thing with TC obviously isn't going to work out), but not as painful watching Kenny offering her a drawer shortly afterward. Ouch!
Kenny's interaction with the football player was really great. Learning he was injured playing ball and changed his life thanks to the care he received from nurses was meaningful not only to viewers, but to Krista. They need to share more with each other to keep the Chavezes at bay.
Kenny's conversations with Drew about helping himself understand how to deal with Rick and not going off the deep end really helped Drew and also gave us even more understanding into Kenny, something that was really lacking previously. He's so much different than I would have imagined if someone had forced me to describe him. He's a really great guy.
Krista called in a favor for Drew with Rick's doctor, too. Things sounded pretty dire between the couple due to Rick's negativity about his leg, but if his physician was known as Doctor Black Hole, then he was never going to get proper treatment, let alone the immediate relief he needed. I'd like to see them follow up that story line with Drew doing something to have the guy removed from his post. He's the last type of doc who should be dealing with veterans.
I know everyone was upset about the reality of Ragosa becoming a physician's assistant, but it's a done deal. If that has turned you off the show, then I guess you're not longer here. It was fun seeing Topher screw with him in an attempt to get him back for everything he put the staff through as an administrator. 
It would be damned hard to do that in one day, but they can't keep that up forever. After Ragosa spent the better part of the shift looking for a therastrap and finally making a good call on a case, he got the best of Topher by chaining him to the desk. Since he's figuratively chained there in his new role, it was a pretty good prank.
Chavez's interactions with TC were also really interesting. TC lost a patient whose husband accidentally shot her and then collapsed crying into his arms when she died. He's still really fragile, and it looked kind of hairy when Chavez told TC to mind his authority in the OR and he'd mind TC's in the ER.
Instead, Chavez let TC assist with the later surgery and even share good news with the family because he knew TC needed the pick me up. Of course, that only made him look even better in Krista's eyes. He seems a little off, though. He's not to be trusted (especially since Adam Rodriguez just got cast in a pilot!).
Jordan had her hands full with an errant beauty queen and drug smuggler, so she wasn't fully available for TC. She offered to spend time with him at the end of the shift, but he went to a bar. While he chose not to drink and settled for coffee and The Great Gatsby, it's concerning that he's going off alone, reading the book the woman who died was reading with her book club before her husband shot her. A bartender's ear isn't good enough.
If I recall, one of the things that tore Jordan and TC apart in the past was their inability to communicate, or TC's desire to keep things close to the vest. If he closes up again, he could lose Jordan again. We don't want that.
The good news is she has Gwen around should anything happen. Jordan has a best friend! That's one of the things I'm most looking forward to exploring as the season progresses. We'll see them tend to a patient next week in The Night Shift Season 2 Episode 3, "Eyes Look Your Last." What are you looking forward to? Hit the comments.
Don't forget, you can watch The Night Shift online anytime via TV Fanatic! 
Carissa Pavlica is the managing editor and a staff writer and critic for TV Fanatic. She's a member of the Critic's Choice Association, enjoys mentoring writers, cats, and passionately discussing the nuances of television and film. Follow her on Twitter and email her here at TV Fanatic.