Blue Bloods Season 5 Episode 19 Review: Through the Looking Glass

Christine Orlando at . Updated at .
What type of warped, twisted, evil person decides to burn another person alive just for kicks? I can't wrap my mind around that and I don't ever want to.
That opening scene of Blue Bloods Season 5 Episode 19 was completely horrifying. I felt sick just watching it. As Frank Reagan put it, it was an act without real motive and without any logic other than pure evil. Perhaps even worse, people watched from above and not only didn't they try and help, no one bothered to pick up the phone to dial 911. 
It reminded me of that saying, "The only thing necessary for the triumph of evil is for good men to do nothing." Apparently, many people did nothing as that man burned alive.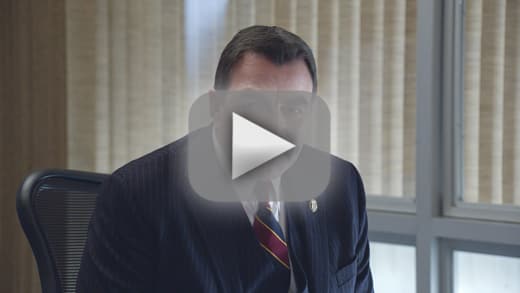 As Garrett pointed out, Brooklyn North was the murder capital of NYC, which meant that the NYPD definitely needed to do more in that area. In that way, Ann Farrell was right to shine a light on this problem area in the hopes of it getting more attention. Unfortunately, it seemed that she'd turned it into a vendetta against the Police Commissioner, as Frank so aptly pointed out in this Blue Bloods quote…
Ann: My issue is with the leadership.
Frank: So you can isolate my from the herd. Easier to take me down.
As much as I believe in a reporter's right to protect their source, there should also be a moral imperative to bring a murderer to justice, especially when they've openly stated that they plan to kill again. In not turning over that name, Ann was allowing those future killings to take place. 
We could only assume that the anonymous tip came from her. Ann and Frank's drink at the end felt a bit odd. Had they come to some sort of a truce? I suppose so but I'd be interested to see their story continue.
Danny and Baez's Rescue Ride was the episode's weakest link. Would a 16-year-old really be allowed to ride around with detectives to murder scenes? As much as I appreciated the concept of the program, the tough love, scared straight message felt over done.
Erin delved into Alex's mother's murder without really thinking it through. I'm sure he knew every word in that case file after 20 years. Erin didn't realize that her offer to help would be opening up old wounds. Thankfully, Alex saw the offer for what it was…
You were thinking with your heart, which you always do.


Alex
It was one more step closer for these two in what I hope is a road that eventually leads to a more personal relationship. 
The Reagan family dinner was a good one as Nicky got shut down when she tried to record her family at the dinner table. Family dinners are sanctuary where everyone can speak openly. But Nicky's question was interesting, What advice would you give your younger self?
The most surprising was that Linda wanted to be a doctor but was told it wasn't possible, so she settled for being a nurse. Jamie would tell himself not to be so cautious. I think his jump from law school to NYPD would prove he's taken that advice. They all had good advice but somehow "Never forget where you come from" sounded kind of self righteous coming from Nicky.
Check back in next week for Blue Bloods Season 5 Episode 20 and if you can't wait for the next Reagan family dinner, you can watch Blue Bloods online now here at TV Fanatic.
C. Orlando is a TV Fanatic Staff Writer. Follow her on Twitter.