Blue Bloods Season 5 Episode 21 Review: Which Reagan Got Shot?

Christine Orlando at . Updated at .
Whoa! I'd heard that a member of the Reagan family would take a bullet on Blue Bloods Season 5 Episode 21 but this was not the way I expected that to play out.
But let's start at the beginning…
Dennis Haysbert guest starred as Deputy Chief Don Kent and his opening scene with Tom Selleck's, Frank Reagan just left me wanting more. It's always a joy to watch two powerhouse actors share the screen. Unfortunately, that one scene was all we'd get.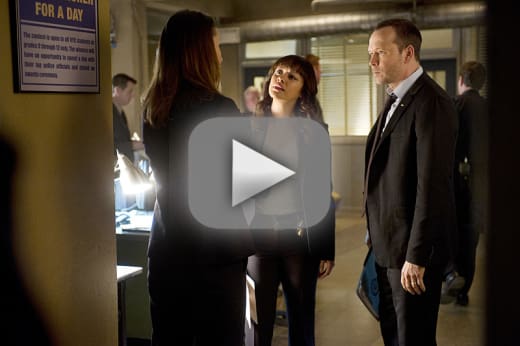 The barbaric assault that led to the death of Chief Kent and his wife devastated Frank. All season long it's felt like Frank's been teetering on the brink of resigning and there were moments in this episode I thought that he would be pushed over that edge.
Selleck's performance conveyed just how weary Frank has gotten of what he now views as an unwinnable war with no end in sight. 
Frank ordered that this investigation be conducted by the book and Erin was sent to the precinct to hold Danny's leash. Everyone had a valid point of view in this fight. With the world watching, the case against the shooter would have to be air tight and there would be a magnifying glass on any missteps along the way.
But it must be unendingly frustrating to know someone is guilty but feel as though you aren't being given the time or the resources to prove it. As Danny said in this Blue Bloods quote…
With all due respect I can't work a homicide in tap shoes.

Danny
It all spilled over onto the Reagan family dinner where Henry had to break up a fight between Danny and Erin and Frank had to sincerely ask Danny not to walk out. To his credit, he didn't because even when the Reagans want to scream at one another, they still act like family. 
Eventually Danny and Baez were able to convince Hector to testify but I could hardly blame Hector for balking. If the NYPD couldn't protect its own Deputy Chief, what chance did Hector and his family have? Apparently not much.
Wrapped around this story was the subplot of Linda's fellow nurse trying to save her son for the neighborhood gang. She had Linda and the entire Reagan clan looking out for Curtis but he still seemed determined to ignore their pleas.
I had to laugh a bit when Curtis swore to Jamie that he had everything under control and in the next breath begged him for help with the weapons charge. So much for having things under control.
A hit being put out on Hector certainly wasn't a shock. Having Curtis as the shooter did surprise me but looking back it probably shouldn't have. His entire story was leading to that moment. The part I never saw coming was that Linda would be the Reagan to take a bullet.
Will Linda survive? Will Danny be able to hold it together and will this be the final straw that has Frank Reagan walking away from the NYPD?
Check back next Friday for our review of Blue Bloods Season 5 Episode 22, the season finale and if you can't wait until then, you can always watch Blue Bloods online any time here at TV Fanatic.
C. Orlando is a TV Fanatic Staff Writer. Follow her on Twitter.