Finding Carter Season 2 Episode 5 Review: Wake Up Call

Carissa Pavlica at . Updated at .
Yes, this was an hour hyped because the Misterwives played at the fair.
However, Finding Carter Season 2 Episode 5 was the best of the season so far for reasons much better than that.
Carter and Taylor have been slammed with huge emotional revelations and now we get to see a little of the impact on each and it's rather surprising.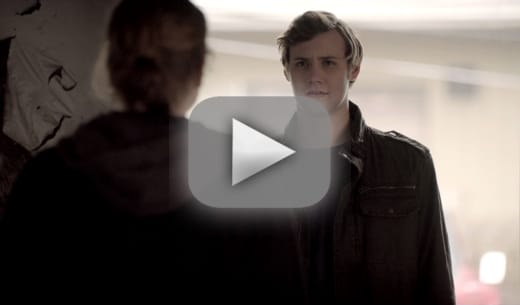 This week, all of the arcs tied into one another really well. It's been a while since we've had that type of cohesion and it really worked to the show's benefit.
Things picked up right after David and Elizabeth had their giant misunderstanding and it's still going strong. At least they make an attempt, albeit a poor one, to talk about their flailing marriage. Instead of righting the ship, David goes out for a beer and a kiss with Hilary and Elizabeth invites Kyle over for snogging on the couch.
David seems awkwardly unhappy with his actions as does Elizabeth, the latter doing it on the living room couch, almost looking as if she hopes David walks in after his date, regretting the error of his ways.
Tonight's the night Taylor learns about David's affair with Lori and he has some words of wisdom for his daughter. He shares with her the affair was physical and a poor attempt to fix marital problems and that he hopes it's something she never experiences herself. After all, look at where it got them. Unfortunately, she's already right in the middle of doing it with Ofe.
Taylor's masking her pain over Max (somehow believing he's "with" Bird) by leading on Ofe. It gets worse by the minute and I fear it will lead to something truly tragic and worse than "studying Russian literature." If she'd just trust her gut, and Max, it would be over. Instead she's riding on innuendo and Max's big (if damaged) heart as he tries to care for himself and Bird.
It's really hard for Max, caring for two people. Bird wants to buy the love and affection of everyone and let Max pay the bills. How a teenage boy is supposed to cover $1,100 in bills alone, not counting expenses, on a garage job is beyond me. When Bird gets money from her grandparents and tosses it at bumper cars, it's really upsetting. 
Honestly, Max could really use Taylor in his life, even as a friend, but she's lashing out at things that aren't there, causing even more stress in his life. 
With the introduction of Crash's uncle, we know darn well he's unaware of any cocaine in any cars, especially one he's asking Max to drive for him. He wouldn't want trouble any more than Max, and let's be honest, what are the odds Crash's uncle did something like get him out of prison out of the goodness out his heart? Pretty poor.
Crash is back to being that misunderstood, gangly kid who only wants to be loved. He's winning over guidance counselors and making SAT care packages for Carter and ensuring she's at the test on time, a test she's having a very hard time taking. He's truly on the straight and narrow.
Carter's struggle with school and what her life is supposed to be is very touching and realistic. The opening scene makes a lot of sense in the scope of things; give the girl a break. She was just kidnapped again so a little slack can be cut. Elizabeth's chat with a Carter, right on the brink of losing it, works really well.
Elizabeth didn't know if she should push and risk pushing too far or not push and risk becoming Lori. It's a good question and one worth the ask, as Carter realizes sitting outside the SAT testing site. Did Lori ever care about her future, or was she more concerned about her future with Lori? 
This is the first episode where it feels as if what the twins are experiencing is organic to the story. There aren't artificial pressures being placed upon them because the ordeal is enough in itself. Yes, they're teenagers, but their lives are a tragedy and the repercussions deserve exloration.
What do you think? Share your thoughts about what Carter and Tay are going through and how they're handling it. Grant had a little girl trouble, too, but...what was it? Other than odd! Hit the comments!
Don't forget, you can watch Finding Carter online any time via TV Fanatic to catch up.
Carissa Pavlica is the managing editor and a staff writer and critic for TV Fanatic. She's a member of the Critic's Choice Association, enjoys mentoring writers, cats, and passionately discussing the nuances of television and film. Follow her on Twitter and email her here at TV Fanatic.