NCIS: New Orleans Season 1 Episode 21 Review: You'll Do

Kathleen Wiedel at . Updated at .
Christopher LaSalle is having a terrible time, to put it mildly. It was like the writers wanted to kick him in the shins and then drag him through broken glass.
I get tragedy, but honestly, NCIS: New Orleans Season 1 Episode 21 was seriously painful to watch! I can only imagine LaSalle's horror when he shows up to that nice romantic dinner only to discover his girlfriend has been murdered.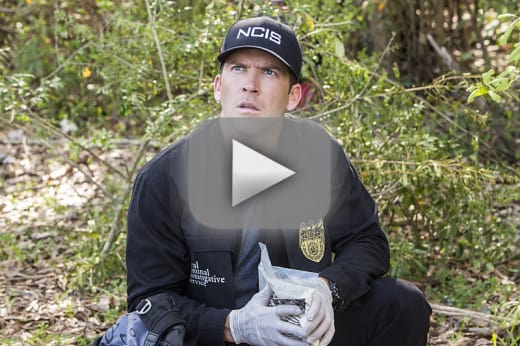 I freely admit that I'm a hopeless romantic. I love a happy ending. So when that cockroach Baitfish showed up out of the blue and gunned down LaSalle's childhood sweetheart, I was rather... irked.
Savannah: You know, when I let you cheat off my papers in high school, I had no idea what I was getting into.
LaSalle: You didn't even know I existed.
Savannah: What, cute guy with the big ears? I knew you were back there!
There are so few happy relationships on television these days. Everything's all about drama and dysfunction, ugh. And Savannah and LaSalle were extremely cute together, too! Now all we're going to get is angst, rage, depression, and guilt out the wazoo.
Fantastic.
As a consolation prize, we were treated to LaSalle helping ATF Agent Sonja Percy with a sting operation to catch a sailor selling guns. They make a fun duo, though I'm not sure if they're being set up as a romantic pairing. I know I sure wouldn't want to be a rebound!
It was a good way to keep Baitfish in the minds of viewers, as well as bring Percy back in a relatively organic fashion. Plus, it made for some hilarious back-and-forths between LaSalle and Percy.
We're NCIS, we multitask!

LaSalle
Dylan Walsh (and a mustache!) made a guest appearance in this episode as NOPD Captain Jim Messier, who surprisingly didn't seem hell-bent on convicting Cade just to serve the purposes of dramatic peril for the story. I found it sadly refreshing to have (*gasp*) cooperation between federal and local agencies.
The way Messier and Pride tag-teamed Gorie the creeper was pretty funny.
I'm not sure how I feel about the way the case turned out. I don't think any viewer seriously believed that Cade killed Windi, but the way it unraveled at the end seemed strangely rushed. On the other hand, it definitely counts for something that Brody totally got to own the psycho bartender and his equally-psycho girlfriend.
Here's a question: if Cade claimed memory loss of the time of the murder, why in the world wouldn't NOPD do the test for roofies, if for no other reason than to prove that he wasn't drugged? (Because that would have made for a far less dramatic episode, that's why.) See, Cade, this is why you needed a lawyer. A lawyer would have demanded those tests.
And then there's a rather more basic oddity about Cade. We had not had a single mention of him since his was hauled away to be committed in NCIS: New Orleans Season 1 Episode 16, "My Brother's Keeper," and suddenly here he was, a free man with a girlfriend and a job. It really, really would have been nice to have an update on him, even a throwaway line aside, in one of the intervening episodes.
Cade's version of crazy is painting Chris's place like a Jackson Pollock!

Pride
Some mention of Cade's struggles with his disorder, his minor triumphs during those intervening episodes: that would have definitely lended intensity and depth to the accusation of murder. LaSalle cares so much for his brother, who care for him when they were both young; LaSalle's immediate declaration of Cade's innocence would have felt much more weighty if we had been more connected to Cade's personal struggles and how far he had come.
It's this sort of unevenness that bugs me about the writing for NCIS: New Orleans's freshman season. I know that there are going to be hiccups, as with pretty much any show in its first year, but this one was so easily preventable.
That being said, I will gladly admit that "You'll Do" is definitely one of the better episodes (despite me wanting to take a pair of scissors to Dylan Walsh's mustache).
Now it's your turn. What do you think, NOLA fans? Did you like seeing Cade again? Are the writers spending too much time doing nasty things to LaSalle? Did you like Savannah with LaSalle, or do you like Percy better? Let us know in the comments below!
NCIS: New Orleans Season 1 Episode 22 is slated to air on May 5, 2015, at 9/8c on CBS. Until then, you can always relive the action from previous episodes when you watch NCIS: New Orleans online right here at TV Fanatic!