Nina Dobrev Announces Departure from The Vampire Diaries: Read Her Statement
Matt Richenthal at . Updated at .
Nina Dobrev has made a stunning announcement on Instagram:
The actress will be leaving The Vampire Diaries at the end of Season 6.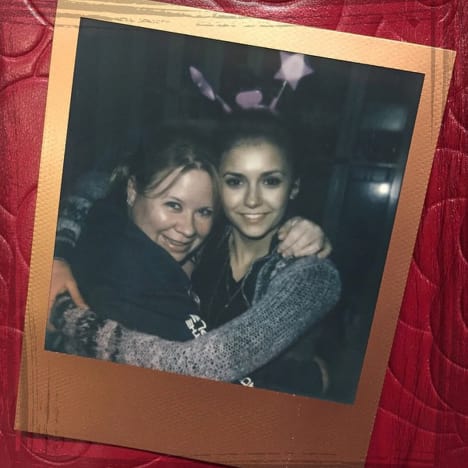 With The CW already having picked up the series for a seventh season, Dobrev posted the following photo on her social media account today and included with it the following message.
"I always knew I wanted Elena's story to be a six season adventure, and within those six years I got the journey of a lifetime," Dobrev wrote, recounting how she just spent a weekend in Lake Lanier with her fellow cast members as part of her "goodbye party."
The star continued:
"I was a human, a vampire, a doppelganger, a crazy immortal, a doppelganger pretending to be human, a human pretending to be a doppelganger. I got kidnapped, killed, resurrected, tortured, cursed, body-snatched, was dead and undead, and there's still so much more to come before the season finale in May.
"Elena fell in love not once, but twice, with two epic soulmates, and I myself made some of the best friends I'll ever know and built an extended family I will love forever."
How will The Vampire Diaries Season 6 wrap up Elena's storyline?
She's currently helping Damon use his mother to get back Stefan's humanity; there's no clear path to the character's exit at the moment... but this is The Vampire Diaries. Anything can happen at any time.
"I invite you to hop on the roller coaster ride that is Elena Gilbert's life and join me as I celebrate her and prepare to say goodbye to her – and to my work family – as I move on to the next chapter of my life," Dobrev adds.
"I want to share this goodbye with all of you (this weekend's pictures were just the beginning). You, the wonderful fandom who gave more love, support and passion than anyone could have ever imagined seven years ago, when a young Degrassi girl from Canada showed up in LA to audition for 'that Twilight TV show.'
"I love you all. Fasten your seatbelts. If you think you know what's coming, you don't."
TVD just said goodbye to Steven R. McQueen as Jeremy, and many other cast members have come and gone over the years.
But Dobrev will mark the first exit by a core star since the series began. Will you be sad to see Elena go?
UPDATE: In a statement by Plec, which says Dobrev's departure is "bittersweet and beautiful" and the entire cast and crew supports her "a thousand-fold," the producer also hints that Michael Trevino will no longer be a series regular.
He has booked a role on The Kingmakers pilot.
"Michael has been a beloved member of the Vampire Diaries family since day one," Plec says. "Even though he's also going to be out in the world exploring new opportunities, we look forward to finding creative ways to make sure he and his character Tyler Lockwood always remain a part of the show."
Matt Richenthal is the Editor in Chief of TV Fanatic. Follow him on Twitter and on Google+.